Transfer news: Nottingham Forest's Jamaal Lascelles shrugs off gossip
Nottingham Forest's Jamaal Lascelles says he is learning how to handle the expectation of being a £5m-rated defender.
Last Updated: 19/04/14 1:57pm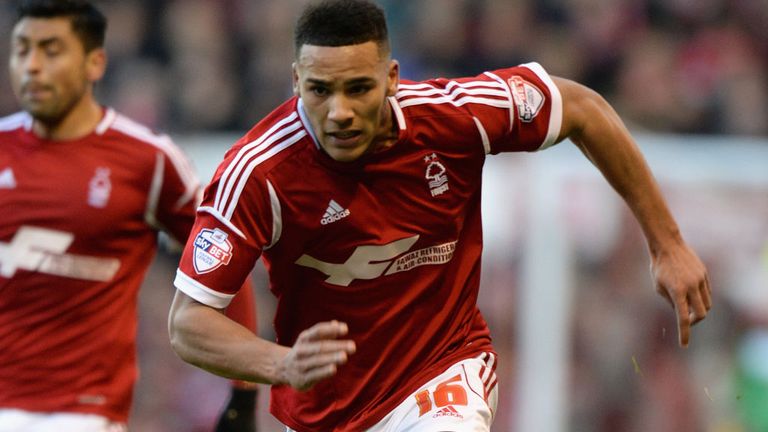 The 20-year-old centre-half has been linked with a big-money move to a Premier League heavyweight ever since he started to make a name for himself in Forest's academy ranks.
The likes of Arsenal, Liverpool and Chelsea are all reported to be closely monitoring the progress of a youngster who has only been able to nail down a regular role at the City Ground in 2013/14.
Lascelles admits the gossip was a hindrance in the past, as he felt the pressure of having to perform, but now claims to be able to ignore the endless rounds of speculation and focus solely on his football.
He said in the Nottingham Evening Post: "There has been a lot of talk about me since I was young and that does add pressure.
"People think to themselves, 'He must be good if a club like that want him'.
"I used to think about it quite a lot when I was younger. It did influence me mentally, quite a bit. It is more pressure.
"People were talking about Arsenal wanting me for £5m. When I played, I felt as though I needed to be a £5m player. If I didn't play well, I felt as though people would be saying, 'He is not worth that'.
"I'm used to it now and don't take any notice. I'm able to concentrate on my football."
The current campaign has been a useful learning curve for Lascelles in more ways than one, with injuries at Forest forcing him to adapt his game to work alongside a number of different defensive partners.
He added: "It was ideal for me just to get a run in the side. Every game I play now is good for my experience.
"At my age, it is all about how many games you play.
"It was a little unexpected for me, because it was the injuries that have given me my chance.
"Danny (Collins) and Kelvin (Wilson) got injured around the same time and, from that point, I have just been working hard to make an impression. It is nice to get a chance to prove myself.
"Kelvin is a good player to play alongside. He talks to me a lot and is really experienced.
"Jack (Hobbs) is another one who has been good to play next to as well. We had a good partnership.
"We went on a run where we kept quite a few clean sheets and were 12 games or so unbeaten at the same time."