Championship: Stuart Pearce urges Nottingham Forest to follow Leicester's lead
Stuart Pearce has urged Nottingham Forest to follow the lead of Leicester as he prepares to take charge of the club.
Last Updated: 04/05/14 2:06pm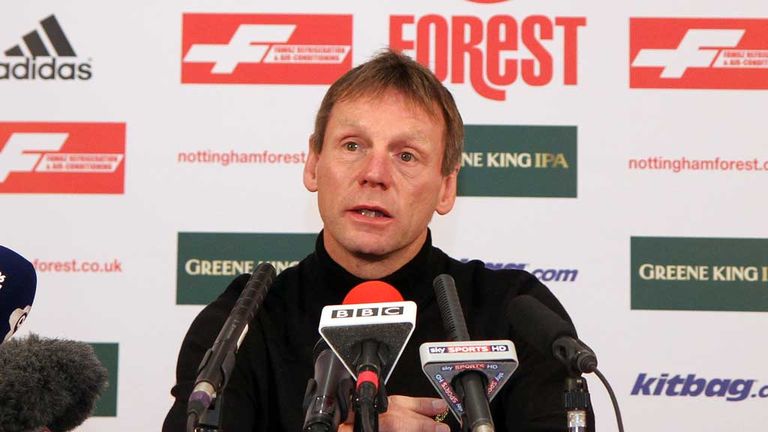 The Foxes suffered heartbreak to Watford in the play-offs last season, but bounced back to claim the Sky Bet Championship title with 102 points.
Pearce, who made 522 appearances during his 12 years as a player at the City Ground, will officially replace Billy Davies as the Championship club's manager on July 1.
Forest looked to be on course for a play-off spot this season, but an alarming slump in form saw them eventually finish in 11th under the temporary stewardship of caretaker boss Gary Brazil.
Promotion-winning Leicester boss Nigel Pearson worked under Pearce during his time with England Under-21s and has now laid the blueprint for other teams to following, including Forest.
Pearce, who is set for a meeting with his new players, told the Sunday People: "It's a great thing for us as a football club to see how Leicester have grown their club.
"Nigel worked with me at England Under-21s when I first started, so I know him very well. A year ago, the media were touting that he might not be in place in regard to getting the team in the Premier League, but he has grown that team steadily over the years.
"Those players have grown used to playing with each other and each year Leicester City have got stronger as a football club. I'm absolutely delighted as one of their rival clubs to see them going into the Premier League - that's a great pointer for us.
"That will be one of the things I point out on Tuesday, how they have grown their football club on and off the pitch."
Pride
Pearce is still regarded as a Forest legend following his playing days and he spoke of the immense pride he would feel if he was able to secure promotion with them.
"Nottingham Forest getting into the Premier League under my tenure as manager would be the proudest moment of my life. That's what we're all striving to achieve," he said.
"But then I'm acutely aware there are 20-odd other teams in the Championship with that attitude and some with real expectations a mile above where they should be.
"Football doesn't owe you a living. People who have spent a lot more money than the likes of Burnley have ended up not getting in the Premier League.
"The Championship is not an easy league to get out of and you have to be consistent over 46 games. Football doesn't owe Nottingham Forest anything because they won the European Cup a number of years ago."
European Cup-winning manager Brian Clough was the man who initially brought Pearce to Forest, but the former full-back says he shares few similarities with the club's greatest boss.
"I'm a totally different man to Brian Clough. He WAS Nottingham Forest," he said.
"When I signed for Nottingham Forest, it was more for Brian Clough than the club. The club grew on me after that. You can't try to emulate him and what he did for that football club - that's impossible.
"He was one of the best managers there has ever been in Great Britain, apart from Sir Alex Ferguson and maybe one or two others, but he stood alone in terms of his personality and everything that went with him.
"So I'm just proud to be on a managerial list at the same football club he worked at."