Gilks frustrated at restrictions
Matt Gilks believes Blackpool could have survived if they had not only dipped a toe in the Premier League water.
Last Updated: 23/05/11 2:13pm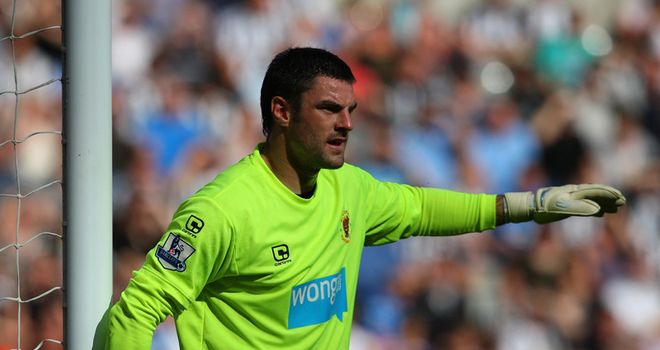 Matt Gilks believes that Blackpool could have survived in the Premier League if they had not only dipped a toe in the water.
Defeat to champions Manchester United on Survival Sunday relegated the Bloomfield Road club back to the Championship just 12 months after last season's play-off final win.
Blackpool went down with just one point less than survivors Wolves, although Ian Holloway's side also had an inferior goal difference, and Gilks is frustrated as a result.
The goalkeeper thinks that if Blackpool had a bigger budget they would have been able to give a better account of themselves in the Premier League.
He told Sky Sports News: "The biggest disappointment from a personal point of view is that I don't think we really had a go at it.
"There are certain restrictions at Blackpool with facilities and staffing-wise and I just think we dipped our toe in the water and maybe if we had put our foot in and had half a go at it we could have stayed up.
Ifs and buts
"It's a bit disappointing to just go down by a point. We could have picked another four up somewhere along the line with a little bit more help, I personally feel.
"But it's all ifs and buts at this stage."
He continued: "We don't have anything at the club. We wanted a kit man at the start of the year, which got rejected.
"We wanted a sports scientist and strength and conditioning coach to come in. We got one part-time and we messed him about a bit and that didn't come to fruition either."
Blackpool's stars, such as Charlie Adam, Gary Taylor-Fletcher and David Vaughan are likely to leave this summer, but Gilks hopes that the future is bright.
He said: "Ian Holloway will now probably build a new team. He will get the right characters that he wants and hopefully we will go onwards and upwards."