Jewell hails Chopra display
Paul Jewell was full of praise for striker Michael Chopra after he bagged a brace for resurgent Ipswich against Brighton.
Last Updated: 01/10/11 7:36pm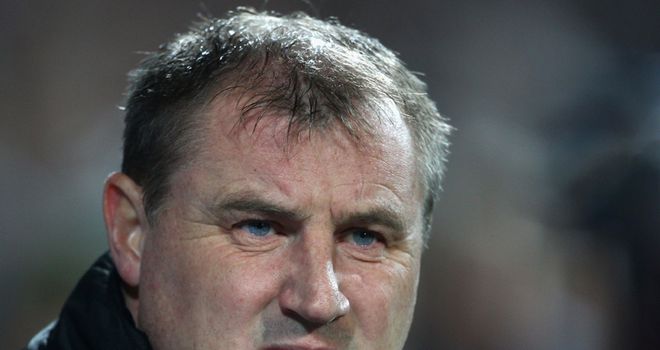 Paul Jewell was full of praise for striker Michael Chopra after he bagged a brace as resurgent Ipswich came from behind to see off Brighton and ensure there was to be no celebration for Albion boss Gus Poyet just 24 hours after penning a new five-year contract.
The former Cardiff man's double was sandwiched by a second from Ibrahima Sonko as Town secured a come-from-behind victory to seal a 3-1 win.
Clever
"Chops is a clever player with a great touch and great awareness and he doesn't hide," said Jewell.
"He's still been working hard and contributing, even though he hasn't scored for a while, and I think you could see that the whole club was really pleased for him.
"Hopefully he can go on a scoring run now."
Brighton boss Poyet was clearly upset in his assessment of his team's performance despite taking the lead through former Valencia playmaker Vicente early in the second half, although any thoughts of an away win quickly disappeared when Town hit back.
No chance
"We were second best," he said.
"We weren't physically, mentally or technically strong enough and when you're second best, you've got no chance.
"We started the second half well. It was more open, we were a bit more brave and scored a quality goal.
"But we couldn't keep it up and you should never let Chopra in on his right foot. There are no ifs or buts. It's Chopra and everyone knows him.
"I hate losing and the next couple of weeks will be long. There's plenty to do and plenty of decisions to make, because we've got to stop this.
"I will analyse a few things. I didn't expect that to be the case after the last two games, there are things to correct.
"I may have to look at making new signings because we need a bit more power and presence, although they need to be the right players."