Holloway backing Big Sam
Blackpool boss Ian Holloway believes West Ham counterpart Sam Allardyce deserves more respect for his scientific approach to the game.
Last Updated: 17/05/12 4:28pm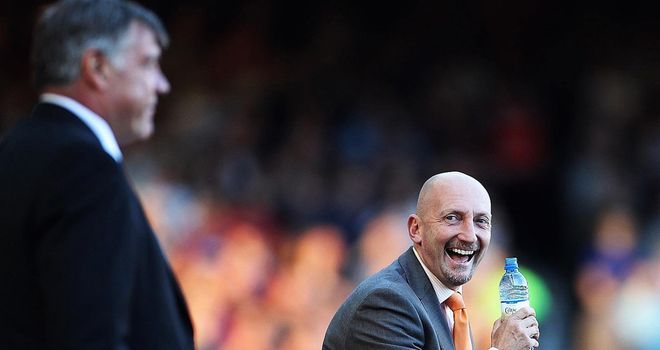 Blackpool boss Ian Holloway believes West Ham counterpart Sam Allardyce deserves more respect for his scientific approach to the game.
Automatic promotion evaded West Ham on the final day of the regular season as they finished two points shy of Southampton in second.
The Hammers scored 81 times on their way to 86 points - 12 more goals than champions Reading - but the perception remains of Allardyce sending out functional, direct sides focused on achieving set-piece domination.
Blackpool have won a host of admirers with a swashbuckling style that has brought them, like their opponents, to within one game of an instant return to the Premier League.
And Holloway believes there has been a blunt simplification of Allardyce's methods.
"I think it's unfair on Sam," he said. "I think he's a fantastic manager. Basically, he's brilliant at the important things in the game.
Science
"Sam can play any way, he can play any style. He's just very, very gifted at what he does. He knows what wins.
"You've only got to look at his record. I guarantee you Blackburn wouldn't have gone down if they hadn't got rid of him, no way.
"Sam knows it's a science and he does it as a science. And he can play any way you like. He could play more football than anybody if he wanted because he's that good."
Blackpool are chasing a second Championship play-off triumph in three seasons after overcoming Cardiff 3-2 on a sweltering Wembley afternoon two years ago.
Holloway admits he was caught up in the whirlwind of emotions associated with the end-of-season tournament in 2010, but, despite a tense finale to their 3-2 aggregate win over Birmingham in the semi-final last week, he has made a point of savouring every moment this time around.
"I've had time to reflect this time. It's been absolutely marvellous," he said.
Fantastic
"The minute we did it (at Birmingham), we knew what days to train, what days to give them rest, what days to have all the press and the suits and all of that, so it's been fantastic.
"I really cherish this achievement. In the league we drew with Birmingham and we lost down their and in the play-off games we beat them here and drew down there. We did it in such a pressure situation as well. I couldn't be prouder."
The Seasiders' record against West Ham this term leaves much to be desired as Allardyce's men triumphed 4-0 and 4-1 in the league, although the last of those games came in February and Blackpool head into the weekend decider on a nine-match unbeaten run.
"I've been staring at West Ham, how they beat us twice, come up with one or two things and hopefully we've worked on them," said Holloway, who believes his players' collective desire could be decisive at the national stadium.
"It's all down to Saturday, it's all down to the lads, it's all down to the will and sometimes the will is more important than the skill.
"We've certainly got plenty of that so let's see what we can do. It's a two-horse race. It's not a long race now, just a sprint and we're going to try and dip towards the line."