Holloway's pride in defeat
Ian Holloway was left proud of his players but regretting missed opportunities after Blackpool were beaten 2-1 by West Ham at Wembley.
Last Updated: 19/05/12 6:35pm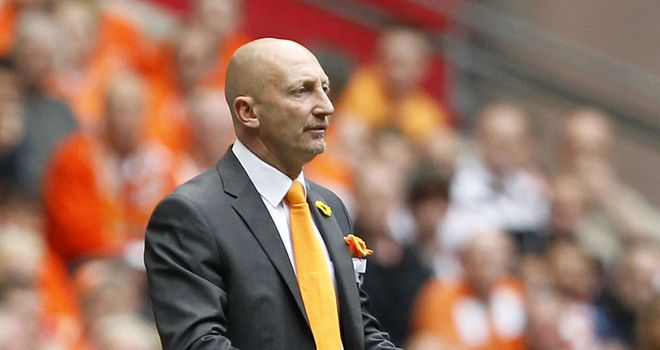 Ian Holloway was left proud of his players but regretting missed opportunities after Blackpool were beaten 2-1 by West Ham at Wembley.
The Championship play-off final defeat courtesy of Ricardo Vaz Te's late winner denied the Seasiders an instant return to the Premier League.
Thomas Ince's second-half equaliser had put Blackpool back on level terms after Carlton Cole's first-half goal but ultimately the Hammers were more clinical on the big occasion.
And Holloway was magnanimous in the wake of desperate disappointment, telling Sky Sports: "Well done to West Ham. It looked like it was going to extra-time, I was very pleased with our performance overall.
"I think when they scored we lost it a little bit, lost our shape, lost our belief and I asked them to do certain things at half-time.
"Like my lot, they went out there second half, fantastic performance, and we'll be rueing the day we missed a couple of chances, but that's life.
"Good luck to them. I'm very proud of my players, very proud of my team and my fans. Unfortunately we didn't deliver."
Holloway's men wasted a host of chances before the interval with Stephen Dobbie hitting the post before Matty Phillips spurned two golden opportunities.
But the Blackpool boss did not want to blame his young star, preferring instead to focus on his players' improvement after conceding four against West Ham in both league fixtures.
"Matty is learning isn't he?" said Holloway. "It was a fantastic move to get through and unfortunately he didn't strike it like he normally does.
"But we've got some fantastic players, they've got bright futures and I would have loved them to ply their trade in the top flight but unfortunately West Ham have pipped us to it.
"All you can say is well done to them.
"We've had a great day but unfortunately it's all about chances. We created more than enough - that's 2-1 instead of 4-1 and 4-0 so we've improved again. Not quite good enough."
Foul
The winning goal was not the cleanest with Cole emerging from a melee in the box to find Vaz Te.
Holloway felt there was a case for a foul - but he was not keen to labour the point, adding: "I thought the second looked as though there was a foul.
"But at the end of the day they've just scored on 88 minutes so I've got to appeal for something.
"Sometimes in life it goes against you but all you can do is congratulate the opponents. I thought we gave a great account of ourselves today."
The former Leicester boss is proud of what the club have achieved under his leadership with young talent like Ince and Phillips blossoming alongside more experienced heads, and it is not difficult for Holloway to pick the positives out of this season's efforts.
Fantastic
The 49-year-old said: "When we dust ourselves down there were lots of fantastic developments - young players, I was proud of the two boys today they've come on an awful long way.
"I'm proud of Kevin Phillips and Barry Ferguson for joining us. I'm absolutely ecstatic with my lads who have been with me on this three-year journey.
"I thought they were absolutely terrific. Every one of them looked a better player now than when I started.
"The likes of Brett Ormerod and Keith Southern, I couldn't even give them a game today.
"We lost Fletch (Gary Taylor-Fletcher through injury). He may have fancied sticking one of them away. But we're trying to grow, we're trying to get better.
"Today I saw my team playing the way I wanted them to and in a game like this that's all you can take with you."
Holloway appeared unwilling to think too far ahead to next season, seemingly aggrieved at the lack of financial support for him and his squad.
He added: "We have got to get over playing in the Championship again because we were all hoping we could play in the top flight and then it's all change.
"They deserve a lot better than what they've got this season.
"Being in this level - to have to win it to get the fair amount of money that the other people are being paid - isn't right in my opinion. But we've got to get over it.
"It's about building now. What are we doing and where are we going? And I can't answer those questions."