Ince eyes Royals example
Thomas Ince wants Blackpool to emulate Reading and turn the heartache of play-off defeat into promotion next season.
Last Updated: 20/05/12 4:07pm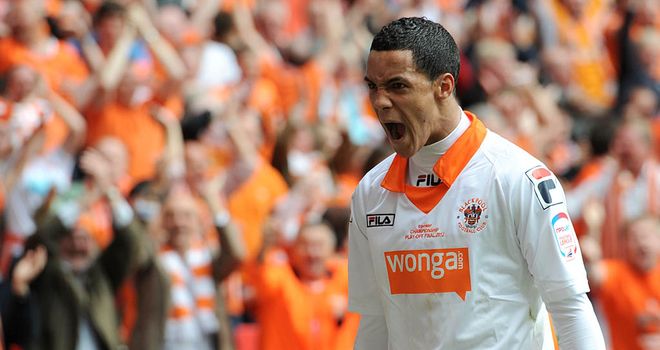 Thomas Ince wants Blackpool to emulate Reading and turn the heartache of play-off defeat into automatic promotion next season.
The Royals lost to Swansea in the Championship play-off final 12 months ago before surging to the title and promotion to the Premier League this term.
Despite Ince's goal on Saturday, Blackpool lost 2-1 to West Ham and the winger wants Ian Holloway's side to bounce straight back.
Ince, who had to endure taunts from Hammers fans at Wembley after his father Paul left Upton Park under a cloud after being photographed in a Manchester United shirt while still a Hammers player, said: "That (the taunts) didn't bother me, I'm just devastated at the result.
"We created the better chances in the game. Matt Phillips had two great chances in the first half but he didn't bury them.
Very frustrating
"But these things happen and it is very frustrating, the most important thing now is that we bounce back.
"Whatever happened with my dad happened and you have just got to deal with it. All I can do is what I do on the pitch, so it was nice to get a goal.
"It was a dream to even play at a place like this, let alone get a goal.
"It is great to score but it is a bit dampening to not come away with the result we wanted.
"But like I said, the important thing is how we respond to this. We have to look at Reading and what they did - they were in the same position as us last year and ran away in the league this season.
"We will be trying to emulate that and we will be determined to go straight up next time."
Gilks hopes
Goalkeeper Matt Gilks hopes that boss Holloway can avoid a firesale of players after failing to secure promotion.
"It will be a big call for us to go again next season after this, but it was a big call this season after relegation last year," said Gilks, who was persuaded to sign a new two-year contract after relegation from the Premier League last summer.
"But we will pick ourselves up, have a really good pre-season and go to it again.
"There is always a chance that the way some lads have played this season that they will be targeted. But the manager is very persuasive, as I know, and he can keep people on board.
"We have competed against some very big teams this season with big budgets and we have proved that we are decent footballing team."