Championship: Ian Holloway wants to keep Wilfried Zaha & Kevin Phillips
Crystal Palace boss Ian Holloway could try to re-sign Wilfried Zaha and may also do a new deal for Kevin Phillips.
Last Updated: 28/05/13 6:41am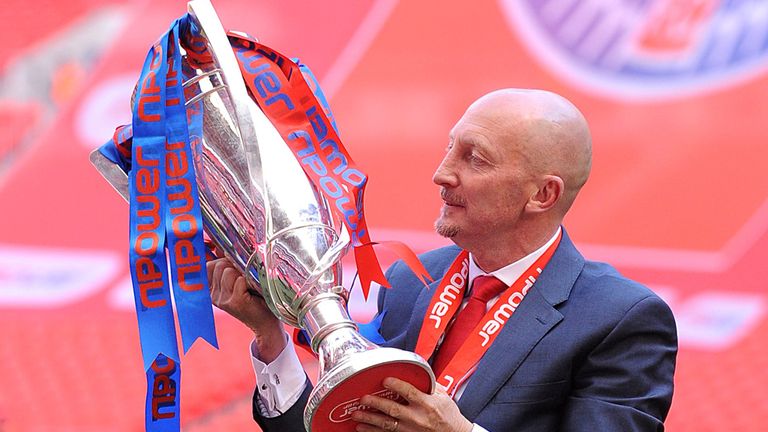 Zaha and Phillips were the heroes on Monday as they respectively won and converted the Wembley penalty which defeated Watford and booked a return to the Premier League.
It could be both players' last act for Palace given they are set to return to United and Blackpool from loan deals but Holloway would relish new agreements.
The Palace boss is tempted to ask new United manager David Moyes if he can again borrow 20-year-old Zaha, who was signed from Selhurst Park in January before returning on loan.
But Holloway knows it is a tall order: "I think he [Moyes] would be silly to give me him back. Now we're up it might be realistic but who knows?
"He (Moyes) will know the task he's got. Mine will be staying up, his will be winning every week. Good luck to him and good luck to us."
But Palace's chairman, Steve Parish, seemingly ruled out an approach to United when speaking to Sky Sports at Wembley, as he said: "I think Wilf should go and have his chance with Manchester United. I think he has earned that. We certainly won't be making representation.
"I would hate him to go anywhere else is that was what they were going to do. Me, personally, I think he is good enough for their side."
Meanwhile, Phillips is on loan from Blackpool, where his contract expires imminently, and Holloway would happily sign the soon-to-be-40-year-old striker once again.
"I'll keep signing him until he's nearly 50 or 60, if he keeps putting the ball in the net," said Holloway.
"The difficult thing for Kev is living in a hotel once or twice a week because he doesn't need to move his family any more. That's what you lose; you lose that desire.
"So I don't train him every day. My lads accept that because they know what he does when he does turn up.
"It's his enthusiasm that he needs to keep. It's that little spark inside him, that jiggle. That's what I want to keep.
"It's your soul inside you. That little vibe when you get up in the morning. I've still got mine. Hopefully he's still got his.
"I can't wait to see him again and thank him for how well he's played for me."