Championship: Alex Rae seeks survival for Blackpool after beating Nottingham Forest 1-0
Alex Rae was eyeing survival for Blackpool after beating Nottingham Forest 1-0, while Billy Davies blamed the officials.
Last Updated: 02/11/13 6:46pm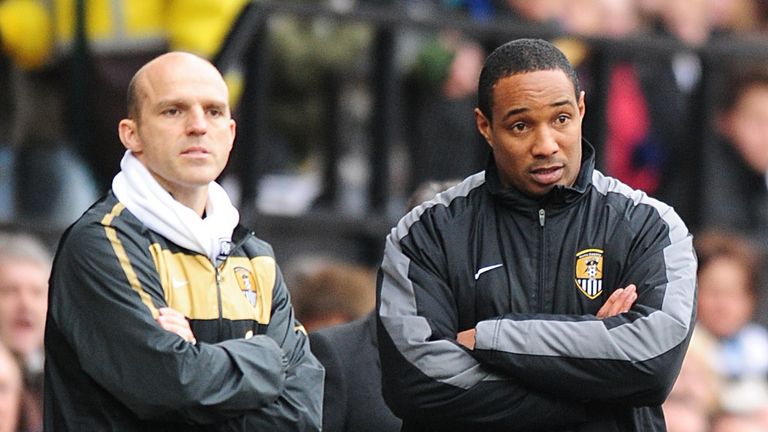 Stephen Dobbie's 91st-minute strike secured a valuable win, against a promotion candidate, at the City Ground.
The Tangerines have lost only once this season, but Rae suggested their first priority was to get enough points to avoid falling towards the wrong end of the table.
"We were one of the favourites to go down at the start of the season, so this (the league position) is a credit to the players," said Rae.
"We were looking at survival, to begin with, the goal is still to get 51 points then to look at things from there, when we get to that point.
"We had 40 trial players in over the summer, but we got a good group of players in. There are a lot of leaders and winners in there.
"We did not expect to be in this position. But we know we have a special group of players.
"We try to make it hard for teams to break us down."
Rae had particular words of praise for Dobbie, who scored for both Swansea and Blackpool in play-off games against the Reds.
"It was a very composed finish from him," he said.
"He puts himself in the right areas to get the shot off. He had to get the ball through a lot of players."
Forest boss Billy Davies criticised referee Michael Naylor for three key decisions he felt turned the course of the game.
While the Scot conceded Djamel Abdoun deserved his first-half dismissal for a foul on Neal Bishop he believed Darius Henderson should have had a first-half penalty and that Dobbie's winning goal should have been ruled out.
"I spoke to the referee and the officials, because there were three very big incidents in the game - Henderson's claim for a penalty, the red card and then the Blackpool goal," said Davies.
"The officials have agreed that there was contact on Henderson, when he was trying to get a shot on goal.
"The question is, did Henderson intentionally make contact with the defender, or did the defender make contact with him?
"I thought it was a penalty. I don't think Henderson was trying to win a penalty, when the ball was coming on to his left foot.
"There is no doubt that it was a red card for Abdoun. He was a little naive, he should have cleared the ball or given it to the keeper.
"Then, having spoken to the officials, it is clear that the assistant referee's line of vision was wrong, he could not see across the pitch. If his positioning had been right, he would have seen that Nathan Tyson was in a clear offside position.
"We are not asking for much. We are just asking for them to do what they have to do.
"We have lost three very important points."