Transfer news: Nathan Eccleston open to staying on at Coventry
Nathan Eccleston would consider a permanent move to Coventry City if an offer is put to him this summer.
Last Updated: 24/04/14 8:44pm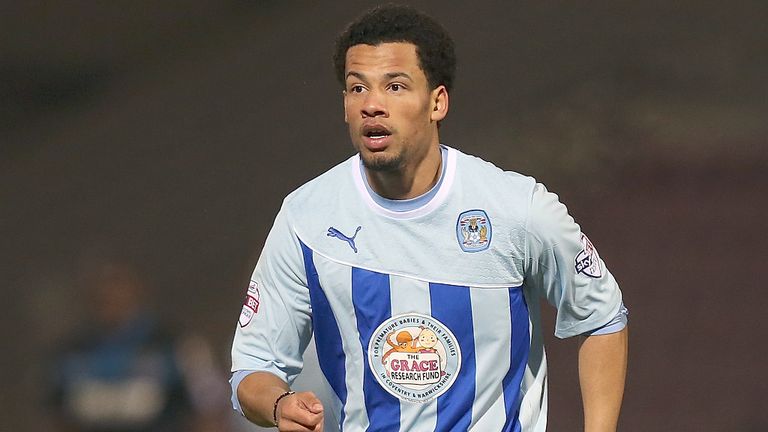 The 23-year-old forward has struggled for first team recognition at parent club Blackpool since signing from Liverpool in the summer of 2012.
He has taken in spells at Tranmere Rovers, Carlisle United and Coventry in an effort to get games, and has thoroughly enjoyed his time with the Sky Blues this season.
Eccleston's loan agreement is due to expire at the end of the campaign, at which point he would become a free agent, but he admits he would be open to sticking with Steven Pressley's side if the opportunity arises.
He told Coventry's official website: "Coventry is a huge club. One of the attractions of playing at Coventry has to be the amount of young players the club has.
"It is a huge credit to the manager and the board that they give young players a chance in the team. For English, young talent, it is getting more difficult to break-through in the game.
"Not many teams are giving their youth products a chance like Coventry are at the moment. I think for a young player to be here, it is definitely beneficial."
A man who has made seven appearances for the Sky Blues so far added: "I've come from Blackpool where I wasn't getting much football and I've come here where the management and the staff have made me feel very welcome.
"After having nothing to look forward to on a Saturday, if you come to a club and play, that's all you can ask for. I'm getting my match fitness back which has been difficult.
"I would have loved to have scored a few goals here and I'm sure it will come. I've had the chances so I just need to make sure I convert them and continue to work hard.
"With two games remaining, I would love to be involved as much as possible and every time I play, I feel I'm getting back to where I should be."