Spread your wings
Blackpool's Rob Earnshaw discusses the benefits of playing abroad and his hopes for the future.
Last Updated: 29/04/14 6:32pm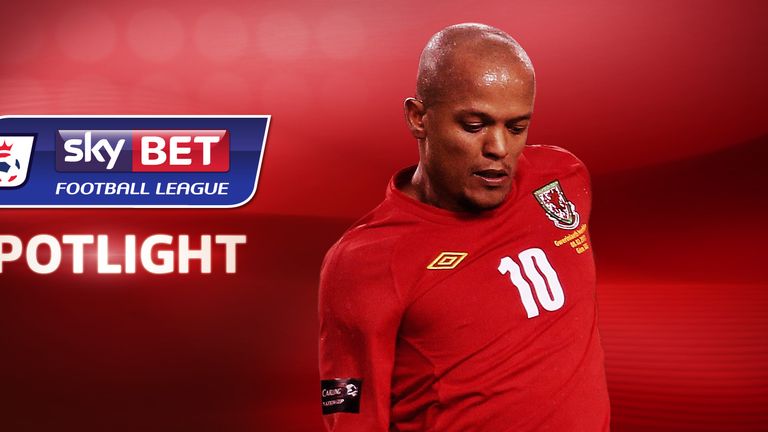 The 2013/14 campaign is now entering the final straight, with divisions beginning to take shape.
Here at Sky Sports, we will look to take you to the very heart of the Sky Bet Football League over the coming months, with our Spotlight features intended to give you a greater insight into the clubs and players that keep us on the edge of our seats.
We hope to bring you the views and thoughts of a representative from each of the 72 teams over the course of the season, with those involved asked to give their take on the division they compete in, the club that pays their wages and those we should all be keeping an eye on.
Blackpool's Rob Earnshaw is next into the hot-seat, with the experienced striker taking time out to discuss the benefits of playing abroad and his hopes for the future with Chris Burton.
Was returning to Britain something you always had in mind or was Blackpool an opportunity that presented itself at the right time?
The opportunity just presented itself at the right time. To be honest, my intention was to stay over there because I was enjoying it. It was just about the fact that I needed to play some games until the end of the season and see how I felt at the end of the season. At the time I was just trying to figure things out, get myself fit, play some games and see how it was. I'm taking it step-by-step. I wanted to stay in the MLS because I was enjoying it there and Toronto still have my rights, even though I left and I'm out of contract - which is different to Europe. That's the rule there, it's done differently. I was kind of handcuffed a bit with that and because of the timing, it's so close to the start of the season now, I couldn't figure out a deal with a different team and at the time I needed to play. For me, coming back was a good option because, obviously, it's coming back home to the UK. Now it's just about seeing it through to the end of the season and seeing how I feel at the end of the season.
I was going to say, was there the temptation to stay in the MLS because it's an emerging league and you only have to look at Toronto - with Defoe, Bradley, Julio Cesar - to see that there are some really ambitious projects now?
Exactly. Defoe's been signed from Tottenham three months ago, now he's playing in the MLS. You know what level Defoe's at. Bradley's another one - I think they signed him for eight or nine million dollars. He was playing at Roma five months ago, so they are taking people from top clubs, top places, and they can play. One of the most annoying questions that I always get is: What's the standard like? I know it's not the UK, but a lot of people don't pay attention to anything outside of the UK and think it must be a lower standard. For me, that's not the case. The standard's good. You have to be fit to play out there. You have to give a lot more and if you are a good player you really have to help the team because the pressure is on you to help your team. The standard is good, though, and it's definitely an emerging league. I think that as the years go on and as the seasons go on, it's just going to get better and better. Just now, I think it's the highest standard it's ever been. You have got so many players playing over there. You will get people that you have maybe not heard of - maybe from South America or somewhere in Europe like Italy, France - and they are playing over there and are really good players. You might not have heard of them until you see them play or play with them. Every team has got three designated players who are going to be top, top level or near that level. You look through the teams and the New York Red Bulls, you play against (Thierry) Henry. Henry is obviously not the Henry of 10 years ago, but he's at such a high level that he could come back and play in the Premier League and be one of the best players because he's brilliant. Then you have got people like Robbie Keane and (Landon) Donovan at LA, even Tim Cahill at the Red Bulls. People were saying he left a bit early, but it wasn't. It isn't a retirement league out there. You need to go there when you feel right otherwise you have no chance because the standard is too high now to be going over there when you're 36 and thinking you can take it easy. You can't go and take it easy, that's the thing. There is no room for that because the standard is going up, it's about giving the same level and more to your team.
It sounds as though you feel you have really benefited as a player and as a person from the experiences you have had in Israel and Canada - experiences that a lot of players playing in Britain don't look to take on...
You know what, over the last two years, it's really opened my eyes development-wise, technically and just thinking about the game more. I think it's really opened my eyes in that way because I feel like mentally I'm learning the game more. The technicalities and being around the people I've been around in the last couple of years has really opened my eyes. Being away and then coming back, you start to see the game over here differently - thinking, maybe there is too much long ball. You see certain things that you think need to get better at times. I think sometimes you get stuck into thinking, UK, UK, UK and you don't see anything outside where it's maybe just as good. You look at Championship football now and I think a lot of teams in the MLS would beat a lot of Championship teams. It's different. Over here it's maybe a bit more rushed, a bit more direct and we're not as technical at times. You go abroad and straight away the number one thing is - little things like playing in boxes. You see the same thing here, but when I went to Maccabi Tel Aviv the boys were very sharp and very good. They keep the ball and sometimes you can't get it off them and you think 'wow'. That's something that maybe sometimes over here we lack. I think about it sometimes and if I'm ever going to become a coach, maybe I will look back on these last two years and there will be a lot of things that I learned that will go into my coaching - if that happens. It's been good though. I'm definitely glad I've done it. It's something that has given me so much. I feel as though I'm a better player and know the game much more than I did two years ago - that's how much it's given me. That might sound crazy, but that's the truth.
In the present at Blackpool, you've come into a tricky situation but one that the club hasn't shied away from and the result at Wigan on Saturday was fantastic?
It's huge. We have been in games over the last few weeks that we have been alright, but the club has bit in a bit of turmoil for the last four or five months. It's been a difficult time at the club because there has been uproar, fans not happy with the chairman, so it's been difficult that way. The players have been a bit caught in the middle, because with that unrest about you can't just think about football, developing the squad and playing well. There has been a lot to deal with in and around the club, and that's always difficult. Now, if we win at the weekend we stay in the league and then I think there will be a lot more building, a lot more developing the club. I think it can get better, the club can do much better. There are a lot of things going on in the background and behind the scenes that will hopefully benefit the club for the next few years. There are a lot of things changing behind the scenes that a lot of people don't know about, a lot of things happening, and maybe that has shown at times in results, but that's the game we're in.
Are you hoping to be involved against Charlton at the weekend - a huge game for both of you?
Yeah. It's been difficult. I picked up an injury a couple of weeks ago so I've missed a few games, which is tough. I was coming here, six weeks until the end of the season and I've missed three weeks - three weeks was a lot of the games. It's just difficult in that way. Now I'm getting fit and looking to hopefully be involved in the last game of the season. We'll see. I'm getting there. I've been training and will do a bit more work this week and hopefully be ready for the game.
You're only 33, so I take you feel as though you've still got a good few years ahead of you and you want to be playing regularly and enjoying your football?
Yeah. It's a bit weird. This is probably the weirdest signing I have ever been involved with because coming from leaving the MLS, their season runs until December, so from that I was in my off-season. From my off-season, this opportunity came up and then I'd not done a pre-season, I'd not had any football at all and then I'm thrown in for six weeks to play in the last few weeks here when I would have been doing my pre-season. It's been difficult and that's probably why I have picked up an injury, because you get thrown in at the end of the season when you haven't done a pre-season. I have picked up a couple of knocks, but I'm fit this week and looking to be involved in the last game and then we'll see what happens. I'm looking to contribute. Maybe I can help Blackpool to stay in the league. We're playing Charlton, they are in and around relegation as well, so it's going to be a huge game because whoever wins guarantees themselves staying in the league, no matter what the other results are. That's going to be a big game and with any luck, I can score the winner and contribute in that way.
Are you keeping the door open on Wales as well? If you're playing regularly next season and scoring goals would you like to be involved again or is that a book that you have closed now?
No, I want to play for Wales. I've said this over the last year, it doesn't matter if I was playing abroad, in the MLS, I'm willing. I've looked at this and I would be willing to fly halfway across the world to come and play for Wales. For me, I am still fit enough and still good enough to contribute for my country. That's something I'm not giving up on right now. I want to play for Wales 100 per cent. Wherever I'm playing next season or in the next few months, I'm willing to travel and do whatever it takes to do that. I've mentally sat down and thought about that. It's a long process, you have to think about all of the things it takes to play for your country - flying here, there and everywhere to play - but I have thought about all of that and the answer is still that I want to play for Wales. My commitment is there, so the door is open for that. Obviously I need to do well for my club, wherever I'm at. Until I feel like it's time, I still feel as though there are another few years that I could be involved there.
You've been on Twitter recently saying that you are involved in some exciting off-field projects, so are you keeping yourself busy away from football as well?
Yeah, I'm doing some stuff. I will probably announce more in the next few weeks. I'm just doing some stuff off the field that's exciting and I'm looking forward to. We'll see. One of them is going to be a clothing company that is called Musongo Clothing, which I have done over the last year, and I'm also working on something else right now. It's something that I enjoy and things that I do. I think sometimes it's perceived that if you are a sportsman, if you play sport, that's all you do 24 hours a day. Obviously that is your number one doing that, but you also have a life and you have hobbies and things that you are good at when you aren't playing. Obviously your sport is your number one thing, that's your skill, but for me there are other things that I enjoy when I'm not concentrating on the field. Hopefully that can be good for me.