Sky Bet Championship: Blackpool chairman Karl Oyston responds to Valeri Belokon
Last Updated: 29/07/14 2:30pm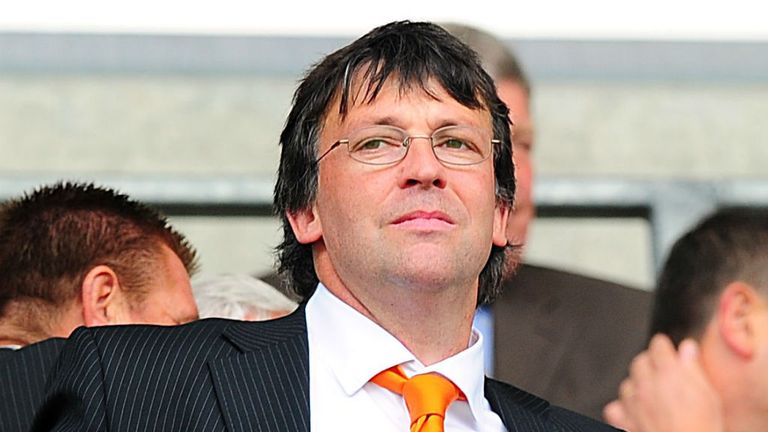 Blackpool chairman Karl Oyston has posted a passionate response on the club website responding to recent criticism from the club president, Valeri Belokon.
Belokon wrote an open letter to the Oyston family in a national newspaper, in which he outlined his 'increasing concerns' and demanded their Premier League parachute payments were used to fund new signings.
Now Oyston has hit back, insisting that the club are 'debt-free' and in 'the best possible hands', vigorously defending his family's running of the club in recent years.
Oyston claims that Belokon asked to be bought out of his 20% share 12 months ago for £24m, three-times the original value, and he also said that Belokon asked for dividends on his shares. Oyston maintains neither he nor his father have ever taken any dividends during their time at the club.
Responding to other Belokon criticisms, Oyston said that the '£24m channelled away' from the club went to companies that had loaned the club money to revamp the stadium, Oyston family businesses that took no interest or profit on the loans. 
Sky Sports News reporter Fraser Dainton said: "It's quite explosive stuff really, it's a letter in response to the Latvian businessman and club president Valeri Belokon who has a 20% stake in the club. He criticised the Oyston family and the way they were running the club over the weekend.
"He said they were taking too much money out of the club and not putting enough money into the playing staff. He wanted to see the Premier League parachute payments being on the playing staff and he used the phrase 'put football first'.
Sky Sports Alerts
Breaking news, transfer gossip, line ups and goal alerts from your football club - delivered direct to your mobile.
Sign up for Sky Sports Alerts
"The main points in the reply are that Oyston says in the last 12 months Belokon asked to be bought out of his 20% share for a value of £24m and would have received a large profit as a result of that. He asks 'If you were to take that amount of money out of Blackpool, how is that putting football first?'
"He then says that Belokon has asked for dividends on his shares over the years and Oyston has responded by saying that his father, who is the majority shareholder in the club, never took any dividends on his shares and Karl Oyston says that he has resisted taking dividends on his shares over the past 27 years.
"Oyston finished off by saying that Blackpool is in a unique position, debt-free and cash rich. Many of our competition will suffer the ravages of the transfer embargo as early as January 2015 when they fall foul of the financial fair play regulations. The club is in the best possible hands and we are in this for the long term."
Blackpool struggled to fulfil their pre-season commitments as they had only eight players on their books, but they secured the services of three new faces on Monday, in the shape of Jacob Mellis, Tomasz Cywka and Peter Clarke.
They open their Sky Bet Championship campaign at Nottingham Forest on August 9.