Yeovil boss Gary Johnson hails Ed Upson after late winner booked Wembley trip
Yeovil boss Gary Johnson felt that Ed Upson went from villain to hero after his late winner booked a Wembley trip.
Last Updated: 06/05/13 9:40pm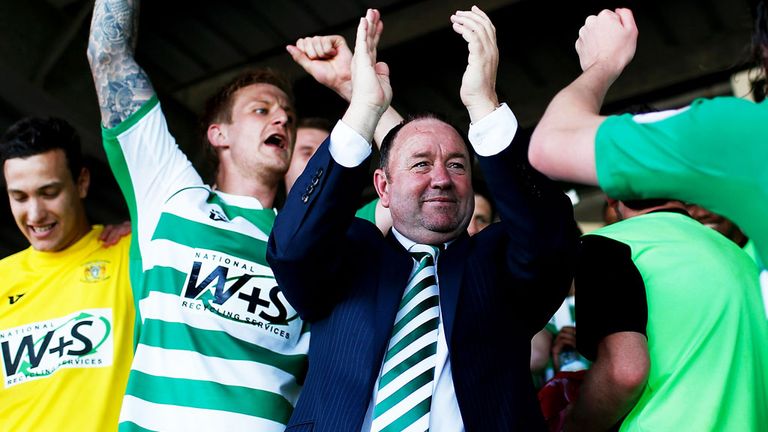 Johnson felt Upson was partly responsible for Friday's 1-0 first-leg defeat at Bramall Lane, but the midfielder made amends when his 84th minute header sent the Glovers to Wembley.
Kevin Dawson had earlier cancelled out United's slim advantage in the fifth minute and both sides spurned chances before man-of-the-match Upson pounced to spark scenes of celebration amongst the home fans at Huish Park.
"We've been talking about heroes and villains and there was a villain out there who turned into a hero which was fantastic," he said.
"He (Upson) was one of those who had a bit of a lack of concentration in the first leg that led to their goal.
"He thought I might have left him out all week, along with a couple of others. But I gave those villains the chance to be heroes and that is what they did.
"Ed came up with something and credit to him. His mum and dad didn't call him Ed for nothing! I love them all to death and when I smack them I feel very sad, it is like smacking your little 'un, you don't really mean it!
"But I may have to smack them a bit more to get our promotion because we've come this far - we have to get this promotion now."
Yeovil were beaten 2-0 by Blackpool when they last reached the League One play-off final in 2007, but Johnson is determined to avoid another heart-breaking defeat.
"When you've come this far you can't be this close to the Championship and blow it," he said.
"We have beaten a big club in Sheffield United. Their lads on the day couldn't cope with the mentality and the mental toughness of our team.
"When the book comes out we'll have to look at the last chapter and see how we do at Wembley..."