Yeovil Town relishing challenge of the Championship says coach Terry Skiverton
Yeovil Town assistant manager Terry Skiverton says the club will not be daunted by the Championship next season.
By Tim Oscroft
Last Updated: 19/06/13 10:54am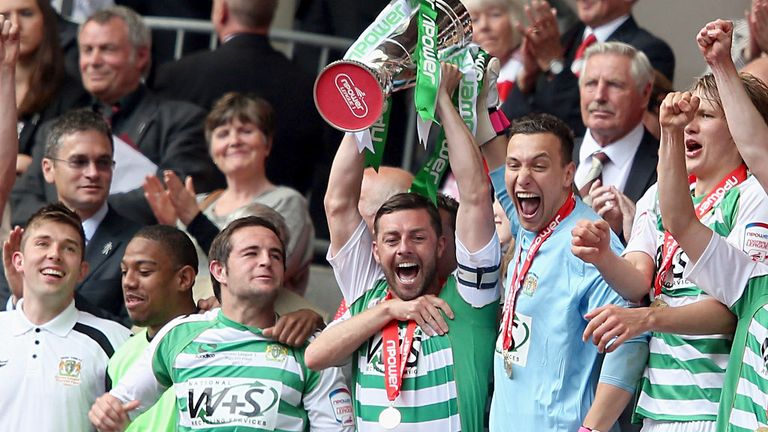 The Glovers were promoted to the second tier for the first time via the play-offs, and will face Millwall away in their first game of the new season.
Skiverton, 37, has been at Huish Park as a player and then as a coach since moving to Yeovil in 1999 and knows just what the coming season means to the club after manager Gary Johnson guided the Glovers to the Championship.
"Being away to Millwall and then hosting Birmingham in the first couple of games is really exciting for the supporters, the management staff and the players," Skiverton told Sky Sports News.
"The enormity of last season has hit home, but we realise the challenge that lies ahead. You cannot rest on your laurels, this is the biggest test of Yeovil Town's history, but it's one we are looking forward to. We have to make sure we go into this season very professionally.
"Millwall, Leicester, Leeds, we have faced all these types of clubs in League One" he added.
"There is nothing there to daunt us, all we have to do is make sure we are fit, firing and ready to go.
"The manager has been here before with Bristol City, kicked on with them and had them one game from the Premier League. He's very experienced and he knows what he is doing."
Hungry
While Skiverton hopes to welcome some new faces when Yeovil's squad reconvenes for pre-season training, he expects the side that won promotion to form the nucleus of the club's first taste of Championship football.
"We are going to stick to the formula that has worked in the past, young, hungry talent that are a little bit untried and untested," he continued.
"We would rather have that than players coming the other way on big contracts. The gaffer has a formula that has really worked well for us, one that we will stick to.
"We have three or four players lined up that will be ready for July 1st, and a couple coming in on trial with really good CVs. It will be the first time in five or six years where our whole starting line-up will be here next year."