Championship: Yeovil boss Gary Johnson hails side after 3-1 win over Nottingham Forest
Gary Johnson praised Yeovil Town after a 3-1 win against Nottingham Forest, whose boss Billy Davies rued a penalty miss.
Last Updated: 28/10/13 10:33am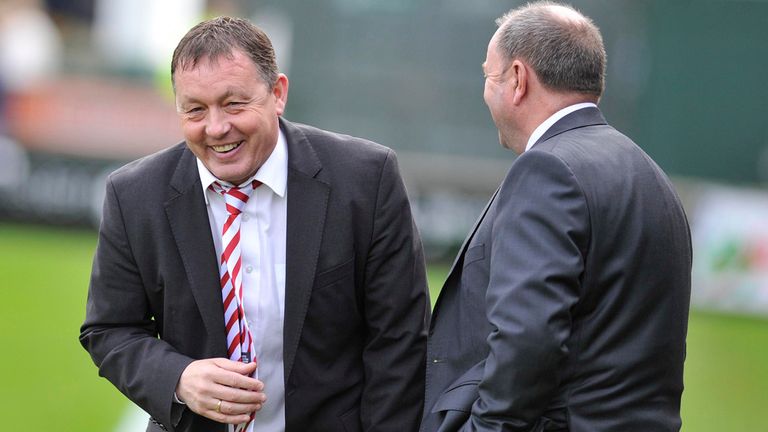 A first-half brace from Ed Upson inspired the Somerset side to a first home win of the season - but it was Wolves goalkeeper Hennessey who stole the headlines and ended the visitors' run of seven matches without defeat.
Johnson reserved special praise for his goalkeeper who saved a first-half Simon Cox penalty and pulled off a string of second-half saves.
Johnson said: "It was a fantastic result as Nottingham Forest are Premiership in the waiting. We're new to this level, but the boys have been unlucky in a few games and I keep saying we're good enough to compete with these teams.
"Hopefully this will push us on for the next few games. It was a great first half attacking display, and then a great defensive display in the second half.
"The lads have never lost the faith and I think we've been unlucky, beaten by the odd goal a couple of times and a couple of official decisions have cost us points.
"We've all had to hang on in there and this was a great game to play in, as Forest are quality with Premiership and international players.
"Wayne Hennessey is a great goalkeeper, Wolves know that, we know that Wales know that.
"Today everything he did was sheer class he's certainly earned his money today. He came here and has just been a real class act for us.
"We needed to get our first home win and it will be great for confidence, and everyone at the club realising they've got a group of players and a manager who can win football matches at this level."
Forest manager Billy Davies bemoaned a "bad day at the office" - and rued Cox's penalty miss.
He said: "I was surprised that was Yeovil's first home win because in the first 45 minutes their appetite was good, their attitude was good and we quite simply didn't turn up.
"Having said that, at 1-0 you can't afford to miss penalties and that was without doubt a big turning point.
"I think they deserved to be in front at half time, and second half I thought Hennessey was excellent and deserved his man of the match.
"In the Championship the blue sky doesn't exist every weekend, there are dark clouds and there will be difficult days ahead with ups and downs, bumps and bruises.
"There is no easy game in this league and you have to respect every team. Your attitude has to be right - and ours wasn't in the first half. On another day things could have been different, but Hennessey was excellent."