Gary Johnson allows Ishmael Miller to leave Yeovil after striker storms out of meeting
Gary Johnson cut short Ishmael Miller's loan spell at Yeovil after his top-scorer vowed never to play for him again.
Last Updated: 06/04/14 2:08pm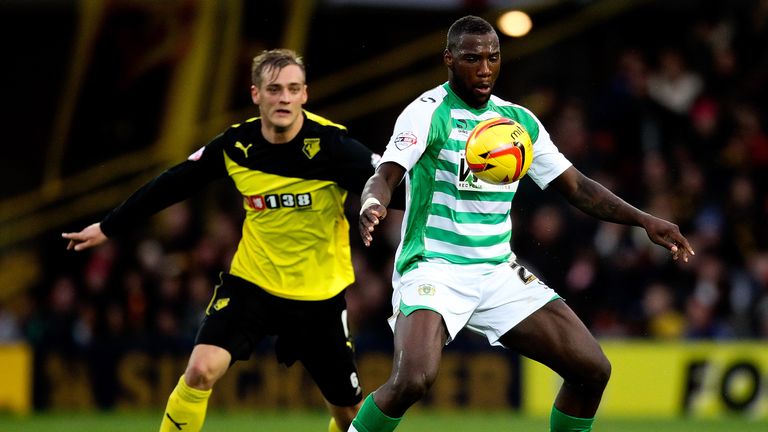 Johnson claimed that Miller stormed out of a team meeting, refusing to play again for the Glovers after he was questioned about why he had travelled home instead of staying in Somerset.
Miller had returned to Yeovil from Nottingham Forest for a second spell and his 10 goals have kept them in touch with their Championship relegation rivals, but Johnson sent him packing after holding talks with the board.
"We had a meeting on Tuesday. We wanted to ask people why they were going home when they were stiff," he told the Western Gazette.
"I asked a couple of people and I got around to Ishmael and he was disappointed I brought his name up.
"He didn't want to get involved in a discussion and he ended up saying 'okay, I don't want to play for you. He walked out of the room. That was the third time and we can't let that happen.
"I want a group that I can 100 per cent trust and put in a battling performance like today. I had to make a big decision, I spoke to the board and they agreed with it.
"It's not a personal thing, it's a club thing and every decision I make is with the club in mind."
James Hayter took Miller's place up front for Yeovil in Saturday's match at Blackpool and scored a first-half penalty in a crucial 2-1 win.
Yeovil remain three points from safety, but Johnson is standing by his decision on Miller.
"We lose the next five games and obviously people are not going to be happy," he said.
"The thing is I'm not new to the Yeovil Town supporters. You can't always tell the whole story but I've told most of it and we move on with the group of players we want to move forward with.
"I'm not sure if he's back with Forest. He's in a bit of limbo, we thank him for his goals and we move on."