No home comforts
Dave Guile looks at Paul Rachubka's demise and argues Leeds fans should have given the keeper greater support.
Last Updated: 10/11/11 10:45am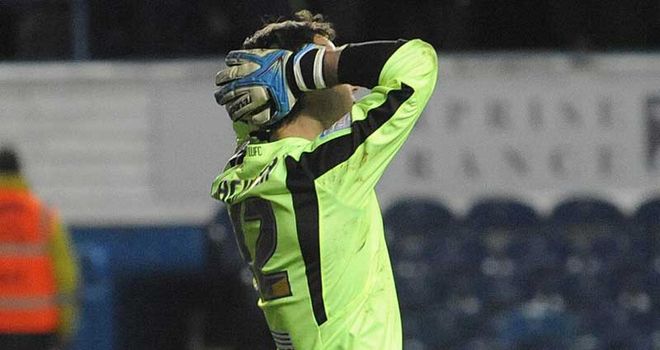 Back in 2008, a burglar managed to make some unwanted headlines while breaking into a house in Dartford. Smashing his foot through the glass, he somehow managed to catch his laces in the window frame and spent the next 45 minutes dangling upside-down by one foot, like a bat in a tracksuit, until two kindly policemen finally helped him down and took him away.
Prior to last Wednesday, I firmly believed that this was the most uncomfortable situation in which to spend three quarters of an hour, with the possible exception of being trapped in a lift with Kevin Spacey. Then we kicked off against Blackpool, and became horrified spectators of Paul Rachubka's private Hell.
Had Rachubka been suspended from the crossbar by one foot, he may have had a valid excuse for not catching Alex Baptiste's cross in the lead-up to the incident that saw Tom Lees red-carded. This, added to three soft goals, was enough to see him hauled off, replaced by the untested Alex Cairns, packed into a black bin bag and dumped unceremoniously outside the Oxfam shop in Headingley, as his team-mates frantically tried to prevent a 5-0 scoreline from getting any worse.
In fairness to the poor lad, the treatment that he has received from our supporters appears to have contributed heavily to his collapse in confidence. He was derided from the moment he signed for us by fans angry at the sale of Kasper Schmeichel, and the ironic cheers on the occasions that he did something right have surely prevented the mental scars opened up by his error against Coventry from healing.
He has my greatest sympathy, but now looks destined to be filed as a failed experiment, along with the likes of Bessone and Paynter. Only one man could fix this man's career, and sadly Sir Jimmy is no longer with us.
Fortunately, with new keeper Alex McCarthy on board and the out-of-form pairing of Kisnorbo and O'Brien forced into the limelight by injury and suspension, football threw up one of those delightful results that defy conventional logic when a patched-up Leeds travelled to Leicester and not only gathered three points, but shut out a multi-million pound attack that included our former idol, Jermaine Beckford.
A pedestrian affair was enlivened by a white-hot strike from Adam Clayton that blistered the paint on the frame of Schmeichel's goal, and bore favourable comparison with Bradley Johnson's screamer against Arsenal a little under a year ago.
On the subject of McCarthy, who, despite his youth, looks to have the makings of a fine keeper, I would hope that we exercise a little more patience than we afforded Rachubka. The same disgruntled mutterings heralded his arrival, by fans seemingly displeased that we hadn't signed Buffon or Casillas instead, and the last thing he needs is supporters trying to make his job any harder than it already is.
For the next month at least, we are fully reliant on him to solve what is threatening to become a problem position for us, and anyone who watched him perform for Reading at Elland Road in April will know that you practically need a bazooka to get anything past him on his day.
Don't become part of the problem. Now is the time to show support for a player who needs it, and a team that needs him to be on top of his game.