Just why?
spends his weekend in Milton Keynes and asks why? Even chorizo and chicken pie and stilton and broccoli soup couldn't alleviate his gloom after watching Oldham capitulate to a miserable 5-0 defeat. In the rain. And did I mention it was freezing?
Last Updated: 21/02/12 9:24am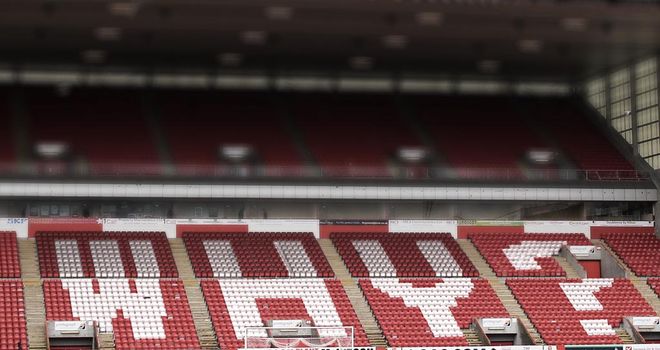 With each passing year it becomes increasingly apparent Hollywood are unlikely to come calling with offers to make a biopic of my life but if Oliver Stone ever does get on the blower it's inevitable he'll want to cast Bill Murray in the lead role. It'd be nice if the film opened with a shot of Scarlett Johansson's derriere in a lonely Tokyo hotel room but more likely it'll be of a tired TV weatherman in Pittsburgh. My life as an Oldham Athletic supporter, circa 1988-present, has a working title already: Groundhog Day II.
Since being relegated from the then Division One (the Championship) in 1996/97 we've since experienced 15 consecutive seasons in League One. They say life as a football fan is all about the ups and downs, the peaks and troughs but not so if you're born a Latic. The glamour of relegation is something we can but dream of. It's as though the pies at Boundary Park are laced with beta blockers, the prospect of emotion getting the better of us has long since been rendered obsolete. This, it would appear, is it.
As I had the weekend off I decided to visit my brother, an exiled Oldham fan in Cambridge. Oh, and did I mention we're playing MK Dons away, which is just 50 minutes hence? This was to be a belated Valentine's gift my missus would never forget.
It's a tradition we've held since being kids that we'll predict the score on the morning of the game. My brother plumps for a 2-1 defeat. He's always been the optimist of the two of us. True to form I'm confident of a 3-1 loss. 'No chance', he says. 'If we ever concede more than two, it's always five or six'. He's also perceptive. My girlfriend says we'll win 2-0. I can only presume she's drunk or done one too many betas.
It's a measure of the disparity between a club like Oldham and MK Dons on a financial level that they've secured the services of Alan Smith until the end of the season. Had Oldham made the same signing in the January window my initial observation would have been: 'getting on a bit but should still be able to do a job in League One. Surprised he's left that cushy commentary gig though'.
And so we set forth on our Football League odyssey in optimum spirits, like the BBC's infectiously enthusiastic Clem. If he was bipolar.
I'd been warned visiting Stadium: MK was not dissimilar to a trip to the cinema or bowling and as we turn onto an industrial estate that realises every fear I've ever held regarding a grey dystopian future, I start to feel that maybe an afternoon wearing clown shoes in the company of tonguing teenagers might not be a bad alternative after all.
The Stadium shares its site with Asda's largest store; so big it's earned a "Super Centre" moniker. It's truly frightening and has roughly the same square footage of Finland. Men have been known to enter for bourbons clean shaven and leave with a beard. I vow never to enter without crampons and rope. This is football 2012 style, exiled to the margins like the high street.
The politics of MK Dons as a football club is for a different article, and I've no real truck with a well-run and progressive outfit with a bright young side and manager, but before I've even got out of the car I feel a sense of unease. You can't invent history and that's not the fault of MK Dons but too many breeze blocks make for a stony heart. I think it was Camus who said that.
As omens go it's fairly fitting that the heavens open. Soaked, we're forced to buy a ticket from the box office. Pretty confident we're not going to sell out the away end but it's all very Premier League. Ticket first, which then needs to be scanned, before you even reach the turnstile. Not for the first time I hanker after a simpler age, my thoughts drift to Boundary Park and rusted corrugated iron. I even miss the miserable bugger who operates the turnstile with his foot and tells young kids to 'push, you soft sod' when it invariably sticks.
Can't argue with my seat though; padded no less. We're all impressed with the seats. My brother's girlfriend upon making the same trip last season said 'Why don't you just get a season ticket here. It's much comfier.' To give some context to her interest in football a couple of years back when Liverpool got knocked out of the FA Cup to Reading and he explained to her the situation with Brian McDermott she replied 'aw, that's sweet but I can't believe they've let the caretaker have a go'.
We're not the first in but with 20 minutes to kick-off I'm not short of leg room either. The guy nearest to me is a dead ringer for Samuel Beckett - I make a joke on Twitter about hoping he's waiting for Godot and not goals. It's the first but not last time in the afternoon I'll reach for my phone for some comfort.The top tier that circumnavigates the whole of the stadium has yet to be rendered with seats and it does nothing for the atmosphere. There doesn't seem to be a natural location for the home faithful and so instead there are pockets of Dons fans spread across the ground. I'd have guessed an attendance of around 4,000 so when the match announcer informs after the half-time break it's just shy of 8,000 I nearly choke on my chicken and chorizo pie. Yes, that's right; you haven't suffered an amorism. Only in a new football stadium would chicken and chorizo pie be deemed socially acceptable. I'm tempted to ask for the recipe. This is football in 2012. My girlfriend had stilton and broccoli soup for the record. They must have run out of the lobster thermidor.
This is for me the central problem for new stadia. They're built on the promise of a dream that more than likely will never be realised. Saturday's game felt like you were watching an audition for what life might be like in the Premier League. Get the pies right first and the rest will follow. Pete Winkleman and his ilk deserve genuine praise for the ambition they show for their football clubs but I'd take a three-sided ground over a soulless amphitheatre every day of the week.
The first half was a largely drab affair of few chances. MK Dons took the lead when Dean Bowditch kept his nerve from the penalty spot but the real highlight was when their young forward Daniel Powell showed life-affirming good sportsmanship when he kicked the ball out of play so Oldham left-back Paul Black could receive treatment, despite the fact he was bearing down on goal at the time. After that it was difficult to begrudge him his two second-half goals.
I managed.
What transpired after the interval was as abject as in living memory as our lads showed the same appetite as a vegan in a butcher's in capitulating to a 5-0 defeat. In reality there was about as much fight in the away end as there was on the field. It was more moaning than malice, with the occasional expletive ridden diatribe quickly lost in the ether amid the more genial sarcastic asides. When you're this crap it's difficult to muster genuine depression. This is our lot and if you've travelled all this way for a fixture that will ultimately turn out to have less significance than the square root of nothing, then for all your threats, you'll be there next week when Tranmere visit fortress Boundary. And the week after that. There's no time for existential doubt when you're picking the ball out of the back of your net.
To cheer myself up on the way back I turned to Twitter and the inevitable outpouring of grief from Arsenal supporters.
'Seven years without a trophy - enough is enough' they chirped in unison after defeat at Sunderland. 'Wenger has lost the plot. Period'.
SEVEN WHOLE YEARS! SEVEN WHOLE YEARS! You lot want to get onto Shami Chakrabarti at Liberty. This has got to be a violation of human rights. SEVEN WHOLE YEARS!
Seriously, it must be such a hardship to be only the fourth best team in England, just one of the 16 best in Europe. The shame. And you still turn up? After SEVEN WHOLE YEARS without a trophy...that's commitment. It's like when big clubs like Leeds United and Manchester City dropped down the divisions for a season or two. Their fans spent most of the game against Oldham, or Leyton Orient, or Notts County congratulating themselves on still being there. Well, chaps, we're still here and you're top of the Premier League.
As an Oldham supporter I am 99 per cent certain I've had my moment in the sun. I've seen us play in a League Cup final, two FA Cup semi-finals (one at Wembley) and win the 2nd Division (Championship) title on the last day of the season with an injury-time penalty after being two goals down at half-time. I've seen us hold our own in the Premier League before plummeting like the proverbial stone. In reality we're never going to get back to that level but a part of me, admittedly a pretty small part after Saturday, still dares to dream. Because that's football.
That's not to say we're any better for watching League One football but rather a call for reality for those fans that are perennially in uproar when silverware isn't delivered on cue. Yeah, you've gone seven years without silverware but until you've spent 15 seasons playing the same sides every year in League One, jog on with your incessant moaning. And yes, I know, pot kettle and all that...
Taking the view that to visit Milton Keynes and not do an Asda shop would be to holiday in Florida and not call in on Micky, we decided to chance it without a reserve of supplies. I picked up a novel about the USSR on the cusp of realising its communist utopia and the first series of Dexter, the TV show about a forensic scientist turned serial killer. I needed some light relief for the journey home.