Cristian Montano to appeal against Oldham's decision to sack him as a player
Cristian Montano is to appeal against Oldham's decision to sack him as a player on Monday.
Last Updated: 17/12/13 4:56pm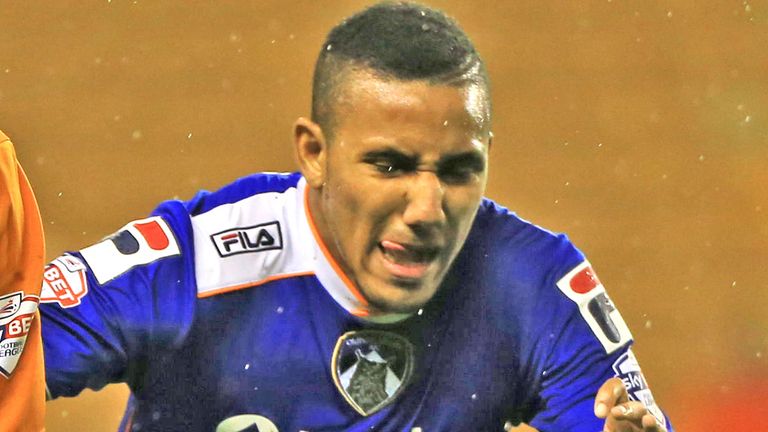 The 22-year-old forward was sacked for gross misconduct by the League One club after he was arrested by police investigating alleged spot-fixing.
Montano was one of six players arrested and bailed earlier this month as part of a probe by the National Crime Agency, which was acting on information passed to them by a Sunday newspaper.
The Latics initially suspended Montano on December 8 before deciding to terminate his contract following a thorough investigation and lengthy discussions with their legal advisers.
However, the decision has surprised Montano, who denies being involved in spot-fixing, and his legal representative has revealed he is to mount an appeal.
A statement issued by barrister Roy Ledgister read: "Following his arrest for spot-fixing, Cristian Montano is disappointed to have learned of Oldham Football Club's decision to terminate his employment contract.
"Despite reports to the contrary, he had been suspended on full pay, to enable the club to investigate.
"He will now mount an appeal challenging the clubs recently and unexpectedly announced decision to terminate which seemed illogical as it appears no proper investigation was carried out.
"Moreover a police/criminal investigation is ongoing without charges having been brought. The club would usually have interviewed their player as part of their investigation, instead they chose to engage in 'lengthy discussions' with their lawyers.
"Cristian has at all times been available to speak with them and naturally as is his right, would have liked to have made sure that the club and its fans understood his denial of wrong doing.
"It appears however that he has been pre-judged by the club on the inconclusive material presently available.
"He vehemently denies being involved in spot-fixing and welcomes the criminal allegation with which he will fully co-operate."
Meanwhile, Ayr United's Michael Moffat has been served with a notice of complaint by the Scottish Football Association for allegedly betting on six football matches involving his own team, who now reside in the Scottish First Division.