Learning curve
Oldham new boy James Wilson discusses being thrown in at the deep end and training with superstars.
Last Updated: 07/02/14 9:08am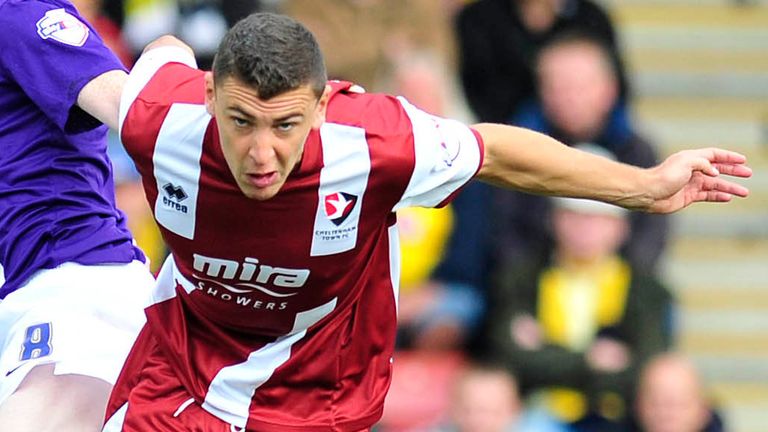 The 2013/14 campaign is now past the halfway stage, with divisions beginning to take shape.
Here at Sky Sports we will look to take you to the very heart of the Sky Bet Football League over the coming months, with our Spotlight features intended to give you a greater insight into the clubs and players that keep us on the edge of our seats.
We hope to bring you the views and thoughts of a representative from each of the 72 teams over the course of the season, with those involved asked to give their take on the division they compete in, the club that pays their wages and those we should all be keeping an eye on.
Oldham's James Wilson is next into the hot-seat, with the Latics new boy taking time out to discuss being thrown in at the deep end and training with superstars with Chris Burton.
You made your debut at the weekend, off to a winning start, I take it you are pleased to be up and running?
Definitely. I hadn't played for a while so it was good to get the clean sheet and good to get the win.
A clean sheet against a top side, it was all positive at the weekend wasn't it?
Yeah. It wasn't a nice day, the weather was horrible, but we did really well. I think the lads did brilliantly and it's a great result. I think we definitely deserved to win, which is the main thing.
How long did you get working with the boys before you were thrown in?
I signed on the Friday morning about 11 o'clock, then we trained in my first session at Birmingham on the way down to Swindon, then obviously stayed at the hotel and played the next day, so it was rushed. I had to do my song the night before and tried to learn everyone's names by the next day!
Does it help in a way to go straight in, doesn't allow for any nerves?
I guess so. It's hard to get straight into it without knowing people's names, especially playing centre-half because you need to try and talk to people a lot. I'm still trying to get everyone's right now!
You played alongside Adam Lockwood who has only been there a few weeks himself - does it help that you are both learning the ropes together?
I think so. We have both got to start again. It's not like it's just me coming in, we're both getting used to playing with each other. It's good.
Do you feel that there is the potential there for a good partnership, that you complement each other well?
Yeah, I think so. He's a completely different type of player to me so hopefully we'll complement each other well.
What have you made of the squad as a whole - it's one that has shown it is capable with some notable results, but one which has lacked a bit of consistency?
I've been impressed. There are some really good players and I've been really impressed with everyone. Hopefully we can start to move up the table.
What are the targets heading forward, would top-half by a decent finish?
I guess so, yeah. We're just going to try and pick up as many points as we can and see where we are in six weeks' time. Hopefully then we will be able to kick-on again.
Did you have other options and were Oldham the best of them?
Definitely Oldham were the best option I had. I'm just really grateful for the opportunity to be playing again, to be honest.
You had been at Bristol City so long, was it a case of looking for a fresh start and avoiding the need to keep thinking about loan moves?
That was the thing. I had loan options but I definitely wanted something more permanent to really start again and look to push on.
But a big decision to make because you had come through the ranks at Bristol City?
It was difficult, but at the same time I don't want to stay somewhere that I'm not involved and not even being considered. It was a hard choice to leave Bristol, but at the same time it was an easy one in football terms.
And I suppose you're seeing it as a platform to build on and really further your career?
Of course. It's such a good place to be up here. I've already seen so much of Manchester, that's a brilliant place, so I'm really excited to be here.
So relocating half the length of the country was never an issue?
No, not really. I'm in a hotel at the moment but I'm trying to find somewhere more permanent. When that's done, I guess this will become home.
Your priority is obviously your football and you've got international ambitions to think about as well haven't you now that you've been involved in the senior set-up with Wales?
Exactly, and I need to be playing more regularly to be in the squad more often. Hopefully this can help with that as well.
Chris Coleman appears to be willing to give everyone a chance, it's just about putting yourself in contention isn't it?
Exactly. He's such a good manager and such a good guy. I think anyone who is playing regularly, he will definitely have a look at them. You can't really ask for any more than that.
There is a lot of emphasis being placed on the future isn't there, exploring as many options as possible, and you could be a big part of that?
I hope so. There are so many good players in front of me at the moment. Any time I do get in the squad, when people pull out or whatever, I'm really grateful for that.
And it's not going to do anyone any harm working with the Bales and the Ramseys of this world...
Exactly. I don't want to get too close to them in training though, they might make me look silly!
Is it going to help you as well that at Oldham you're working with a lot of players who are of a similar age to yourself, you're all in it together?
Defintiely. We have got a lot of players who want to prove themselves. I think that's definitely what you need when you're trying to push on as a team.
And in Lee Johnson you're working with a young manager who has big ambitions...
Yeah. I think he's always wanted to do it, he's always wanted to be a manager. To be honest, so far he's been great with me. All of the lads think really highly of him so I think he'll do really well.