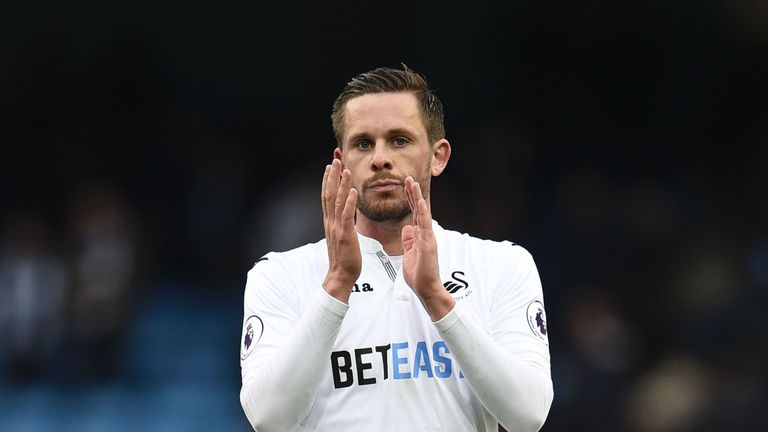 Gylfi Sigurdsson will be better off at Swansea if he is to have a repeat of his experience at Tottenham, warns Paul Clement.
Sigurdsson was often played out of position and completed 90 minutes in only nine of his 58 league appearances when he opted to move to Spurs in 2012 rather than make his loan deal at Swansea permanent.
Everton want to sign Sigurdsson this summer, according to Sky sources, though the player has insisted he is happy at Swansea and will only leave the Liberty Stadium if the club want to sell him.
Only Tottenham midfielder Christian Eriksen has matched Sigurdsson's nine assists and 13 goals for struggling Swansea this season though, but head coach Clement has warned his prize asset of repeating a past mistake.
"I think Gylfi has a unique situation," Clement said when discussing Sigurdsson's future. "He was here on loan and then he went to Tottenham, which was set to be the next step in his career.
"It didn't work out, he came back here and has done really well. He is going to have that in his mind, if he is going to make the next step it has to be a positive one.
"He cannot have another situation like he had at Tottenham, where he potentially goes somewhere and is in and out of the side, and does not gather any momentum.
"Otherwise he is better staying here, being a key player and building something around moving this club forward."
Sigurdsson, who signed a new four-year contract last August, was named Swansea's player of the year on Wednesday night - the first player to retain the trophy.
And Clement hopes that Swansea's dramatic improvement under him in the second half of the season, when they picked up 26 points from 18 games to stave off the threat of relegation, will show Sigurdsson the Welsh club are heading in the right direction.
"We want him to be able to see from the second half of the season that he is not going to have another situation like this one," Clement said.
"A lot of players have to make that decision in their careers. I am not necessarily talking about Gylfi, but do they want to be a smaller fish in a big pond or a big fish in a small pond?
"He has something special with Iceland, too, where he is a key man. That's what he has got here at Swansea, and I hope he stays here."