Rodgers eyeing explosion
Brendan Rodgers is confident Swansea will break their Premier League goals duck very shortly.
Last Updated: 06/09/11 4:33pm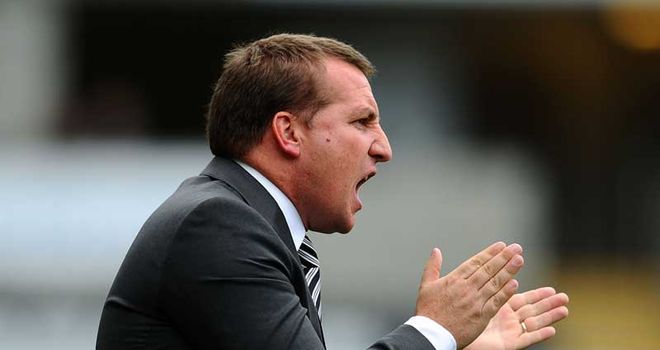 Swansea boss Brendan Rodgers is confident his side will break their Premier League goals duck very shortly.
The Premier League new boys have yet to find the net in three top-flight outings - following up an opening 4-0 loss to Manchester City with goalless stalemates to Wigan and then Sunderland.
But Rodgers believes his side are 'ready to explode' in relation to goals ahead of Saturday's trip to the Emirates to face Arsenal.
He told the South Wales Evening Post: "The game is about inches and the consequences of those inches are massive.
"I think if we'd had a little bit of luck, certainly in our home games, our points tally could have been totally different already.
"And overall I have to be pleased with the way we have taken our first steps in the Premier League.
Explode
"I think we are ready to explode in relation to goals.
"The spotlight is on us because of the goals at the moment, but that doesn't concern me because of the players that I have.
"I feel it's only a matter of time and that we just have to stay patient.
"In Danny Graham we have got a top talent, a player who gives everything even when he doesn't score.
"When he comes off the field his shirt is soaking wet because he gives so much to the cause.
"It's just a matter of time before he scores, and you can see Scott Sinclair is getting closer and closer.
"We have a real attacking threat, so the goals don't concern me. They probably concern the media more than me because I have trust in the players."
No fear
While Swansea are massive underdogs to face Arsenal, the trip to the Emirates holds no fear for Rodgers.
He said: "Our next game is at the Emirates, and I am much happier to be going there than I would be about going to a lot of places in the country.
"We have been on an incredible journey, and the story continues for us."
Now that the transfer window has closed, Rodgers is concentrating solely on events on the pitch and picking up a first crucial win.
He added: "We go through to January with the players we have got.
"We have looked solid at the back, with two clean sheets in three games.
"I am pleased with how we have started the season, but we are in the business of winning games.
"We want to get that first win and then get more wins sooner rather than later."