Allen puts sympathy on hold
Joe Allen insists there will be no room for sentiment when Swansea go up against former manager Roberto Martinez and his Wigan side.
Last Updated: 02/03/12 4:17pm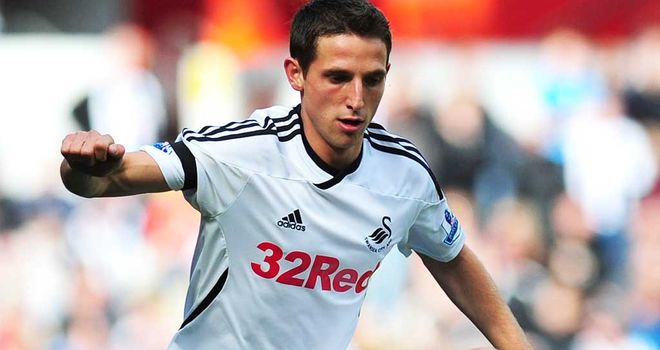 Joe Allen insists there will be no room for sentiment when Swansea go up against former manager Roberto Martinez and his Wigan side on Saturday.
Midfielder Allen was handed his Swans debut under Kenny Jackett, but it was current Latics boss Martinez who first played him on a regular basis.
The 21-year-old has subsequently gone on to become an integral part of Swansea's squad and has won many admirers for his impressive performances this season.
Struggling
While the Wales international has gone from strength to strength, Martinez and his Wigan side find themselves rooted to the foot of the Premier League table with just one home win to their name all season and only a dozen games remaining.
If Swansea, who are nine points clear of the drop zone, can extend Wigan's miserable record at the DW Stadium and pick up their third win on the road it would move them ever closer to safety, and leave the Latics firmly in the mire.
And Allen says any sympathy for Martinez will be put on hold.
He said: "He was someone who showed faith in me and gave me my first real run of games so I will be eternally grateful to him for that as will a lot of players who are still here from his regime as well.
"From a personal point of view you could feel sympathy for him but as professionals we are representing Swansea City and the brutal reality is that we are competing against every team in this league and I don't think we can allow ourselves to feel sympathy for any players or managers.
"It is ruthless and a tough league and still at this stage of the season there are a lot of points to be won and there are sure to be a few twists and turns between now and the end of the season.
"Our away form has not been as consistent as we would have liked and maybe the fact that they have won only once at home could work against them.
"We think it is time to start improving that side of our game. We have got be hopeful and go into the game with a strong belief and that we can come home with all three points."
Pressure
Swansea head to the DW Stadium after a 2-0 loss at Stoke saw them record back-to-back league defeats for the first time this season.
Allen knows it is important Swansea do not let that run extend to three games as they look to keep a healthy gap between themselves and the bottom three ahead of next week's visit of leaders Manchester City to south Wales.
He said: "I think there is a little bit of added pressure considering the two defeats we have had. It is unlike us really.
"It's the first time we have lost two games on the bounce and in the past we have bounced straight back and we will make sure we prepare well and bounce back with a good result this weekend."