Tate unimpressed by Gomez
Alan Tate claims Jordi Gomez is known for 'making a meal' out of fouls and did not do Nathan Dyer any favours as the Swansea winger got sent off.
Last Updated: 05/03/12 3:02pm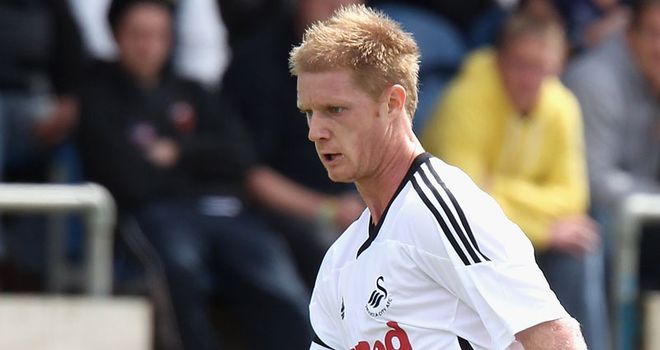 Alan Tate claims Jordi Gomez is known for 'making a meal' out of fouls and did not do Nathan Dyer any favours over the incident that saw the Swansea winger sent off.
Dyer was producing an impressive performance in front of interim England coach Stuart Pearce until he was red carded after an hour of Swansea's 2-0 win at Wigan for a high tackle on Gomez.
Television replays suggested that Dyer's challenge contained little force and that he may have been unfortunate to be dismissed by referee Andre Marriner.
Dyer is now set to sit out three matches, starting with next weekend's eagerly-anticipated home encounter with Manchester City.
While manager Brendan Rodgers said he could understand why Marriner had reached his decision, Tate feels the theatrics of former Swansea team-mate Gomez were a contributing factor.
"I didn't see much wrong with it, the ball was there to be won," said Tate.
"From playing with Jordi, I know he goes down easily.
"I didn't see it clearly, but there was probably a lot of rolling around. He may have even kneeled up and prayed.
"He's known for making a meal of it. But I can't really complain - he won us a fair few penalties in the Championship."
No sympathy
Whilst there was no jubilation at the plight of former boss Roberto Martinez, neither was there any sympathy for the man who left Swansea for Wigan in 2009 but is now under pressure after being publicly questioned by Latics chairman Dave Whelan.
"I don't feel sorry for him," said Tate.
"He made his choice to leave. He knows the game. He knew what he was getting into and has to take the ups with the downs.
"It's unfortunate as he is a nice fellow and the club (Swansea) owes him a lot.
"But it's always great to beat people you used to play with and former managers, so it's satisfying for the lads."
Long road back
Tate's substitute appearance at the DW Stadium was his first since a Carling Cup defeat at Shrewsbury in August, having broken his leg in a bizarre crash when he got it trapped between a golf buggy and a tree, and he accepts he will have to be patient as he awaits further opportunities.
"To come back and help the lads get a good victory here is brilliant," Tate said.
"The injury was my fault. I have had to live with that.
"It's been a long road back but there's light at the end of the tunnel.
"I feel like I deserved the chance to get on.
"It will take a while to get back in the starting XI the way the lads are playing but I'll go from strength to strength.
"You've got to take your chances, that's the only way I'll get back in."