Jenkins - No Rodgers raid
Brendan Rodgers will be unable to sign players from Swansea for 12 months due to an agreement with Liverpool, says Huw Jenkins.
Last Updated: 01/06/12 4:38pm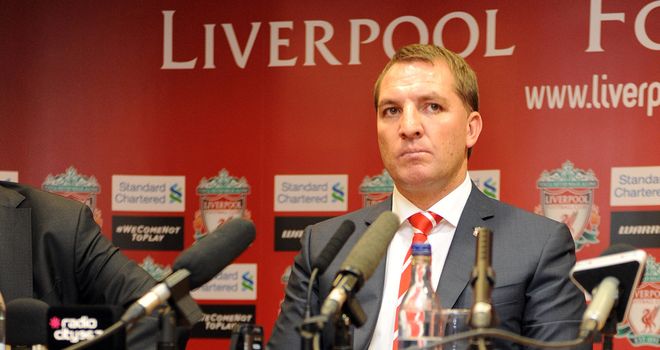 New Liverpool boss Brendan Rodgers will be unable to sign players from former club Swansea for 12 months due to an agreement between the clubs, Huw Jenkins has revealed.
The Northern Irishman was presented as the new Reds manager on Friday morning after the Merseyside club settled on a compensation package with Swansea.
But he will not be able to raid his former club for talent over the next year, according to the Swans' chairman.
Protection
"We have got some protection on Brendan coming back for our players in the initial period, which I think is the right thing," Jenkins said.
"He has got a timescale to assess things there and that is going to take him a while so I've got no worries there. We have got a 12-month respite."
Jenkins admitted his disappointment at losing Rodgers, who guided the Swans to the Premier League and then to an 11th-placed finish in the top flight last term.
"We are obviously very, very disappointed that we lost Brendan but things move on," he told Sky Sports News.
"I think that naturally he has got massive belief in his ability and he felt that if he was the right candidate he would go forward.
"Obviously my only loyalty is to my football club and when we had Brendan working with us we wanted him for some years to come but the reality is that everyone has ambition and sometimes that ambition has to be realised."
Jenkins claimed the pair parted company amicably, adding: "We have got a good relationship, we have dealt with it in the right way with Brendan and Liverpool."
Wigan manager Roberto Martinez was heavily linked with the Liverpool job before Rodgers emerged as the Reds' first choice in the selection process.
"I obviously can't comment on what the process was. I think it was a public process and they have handled their affairs slightly different than we would but that is their job," said Jenkins.
"Our focus now is about moving on and making sure our club is right and ready for the season ahead."
Sigurdsson
The record transfer of Iceland midfielder Gylfi Sigurdsson was set up before Rodgers left the club, but Jenkins confirmed the deal for the Hoffenheim star is still due to go ahead.
He said: "We have agreed a fee and personal terms but the problem is he has gone away to Europe on holiday and that has delayed the finalising of it.
"We are hopeful of getting things moving next week, hopefully we can tie that up and get one or two things finished off."