Laudrup keen to trim squad
Michael Laudrup has reiterated his intention to trim down the Swansea squad he inherited from Brendan Rodgers.
Last Updated: 02/08/12 9:53am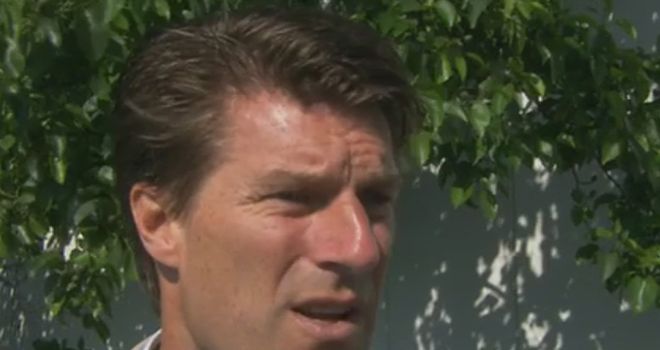 Michael Laudrup has reiterated his intention to trim down the Swansea squad he inherited from Brendan Rodgers.
Laudrup, who was appointed as Swans boss in June, can register a 25-man squad in accordance with Premier League rules but wants no more than 23 players in his senior set-up.
"The idea is to work with 22 or maximum 23 players, and there are a lot of reasons for that," he told the South Wales Evening Post.
"First of all, you will then have a squad where everybody feels they are close to the 18-man squad for each game.
"If you have 25 players, you have to leave out seven every time and that's too many. If you are always one of the seven, after three months you will say, 'What am I doing here?'
Youngsters
"That's one part of it, another part is to do with the youngsters. If they see 25 players in the first squad they think it is very difficult to break into it.
"But if it is smaller and you have three or four injuries, one or two of the young players can come into the first-team squad and they will be happy that it's not impossible to get there.
"The third reason is that it's impossible to practise with 30 players.
"You will have to have some players doing other things, and you cannot have that for too long because they will lose their motivation, and that's not good for anyone."
Despite being clear on these plans, Laudrup insists he is yet to decide which players will be moving on before the start of the season.
"Everyone starts out the same in pre-season," he added.
"The market is open until August 31 and a lot of things can happen in that time - a lot of things can happen in the last week of the window.
"The fair thing to do is to look at everyone in training and in some games. Eventually we will reach a moment where we have to make some decisions."
Honest
Those decisions could be complicated by the fact that players are under contract but the 48-year-old boss intends to be open about his plans with the players concerned.
"You have to be honest with everybody," said the former Juventus, Barcelona and Real Madrid midfielder.
"If we have three or four players in one position, then at least you have to tell the one who is No.4.
"If he says, 'OK, but I still want to stay and compete', we have to accept that and I will always do that. But the idea for me is to work with 22 or 23 players."