Alan Tate says Swansea City did not play as a team against Everton
Swansea City defender Alan Tate has told his team-mates they must pull together or they will struggle every week.
Last Updated: 26/09/12 2:00pm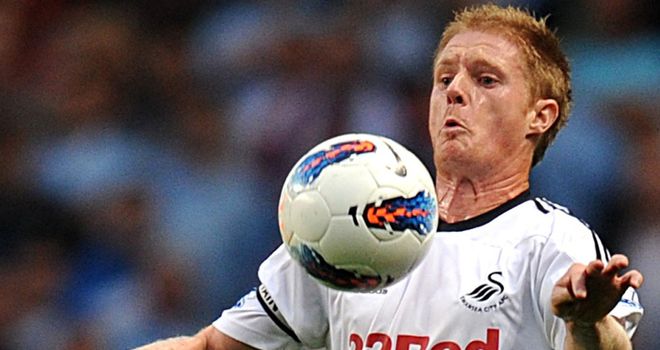 Michael Laudrup's Swans produced a disappointing performance on Saturday as they went down 3-0 at home to Everton.
Tate thinks the problem was that people were playing for themselves rather than the team and there was too much emphasis on attack rather than defence.
He wants everyone in the side to help out at the back and says the summer signings have no excuse as they have been told in training what is expected of them.
"That's what happens if you play as a group of individuals rather than a team," Tate said in the Daily Express.
"We have gone away from the team aspect which made us good last season. We need to get back to playing as a team otherwise we're going to struggle like that every week.
"Defensively we tried to do it on our own. We were more concerned with scoring goals than we were about stopping them at the other end."
Tate added: "We were gung ho, really. Everyone was going forward, leaving the back four to defend by themselves. You can't do that in any league, let alone this league.
"All the lads have trained with us so they know what is expected of them. But if people are going to play individually we may as well pack up now."