Swansea goalkeeper Michel Vorm is bracing himself for a typically physical encounter with Stoke at the Britannia Stadium
Swansea goalkeeper Michel Vorm has been preparing for Saturday's trip to Stoke by getting the rugby tackle bags out.
Last Updated: 28/09/12 2:23pm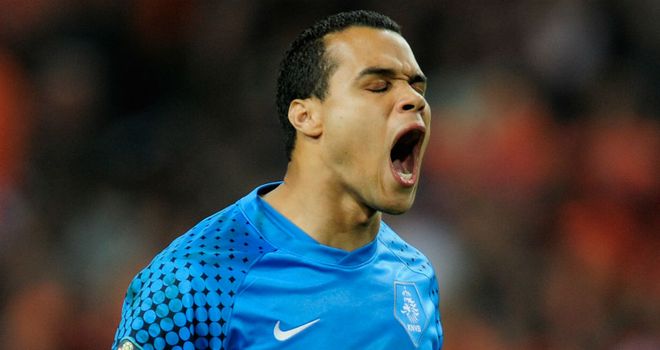 The Holland international is fully aware of the physical challenge he faces at the Britannia Stadium, despite missing last season's 2-0 defeat where Swansea were knocked out of their passing stride.
"I don't mind that side of the game," said the 28-year-old. "There were some games last season when I had some bruises on my face after the game.
"Things happen and I don't mind. I like to go in there and show what you can do. I am not afraid of anybody.
"We have practised with tackle bags. Last season we did it sometimes and it is good preparation for matches like this.
"It is not only for the games against Stoke because other teams have some physical players especially from set-pieces. You have to make sure you are strong and make sure you come and fight those guys."
Swansea will be looking to get back on track against Tony Pulis' side after defeats to Aston Villa and Everton dented a bright start to life under Michael Laudrup.
Upheaval
Given the upheaval at the Liberty Stadium over the summer, with manager Brendan Rodgers and midfielder Joe Allen departing for Liverpool and Scott Sinclair heading to Manchester City, Vorm could maybe have been forgiven for glancing elsewhere.
But the former Utrecht goalkeeper had no hesitation in tying himself to a long-term deal, and believes the squad Laudrup has put together is stronger than last season's.
"If you look at us, I think the future is very bright here. The way the club is going I am sure it is going to be even better," he said.
"We are getting our own training ground, we have signed new players and I think we have a better squad than last year.
"Even though Brendan left we have a manager who fits the profile of the club. We are trying to play and I think we have bounced back after last season.
"It s very tough now because we had a very good season last season and we won our first two games. But now we have lost our last two matches.
"But I see a very bright future ahead and that is why I am here.
"We had a very good team last year but this season we have a group of about 20 players and I think the competition for places is greater than last season.
"Not everyone has settled in yet but you can see that we can make more changes this season than we could last."