Captain Garry Monk insists there is no problem between Swansea's players and manager Michael Laudrup
Garry Monk insists Swansea's players are behind Michael Laudrup and says rumours of unrest will only make them stronger.
Last Updated: 12/10/12 4:34pm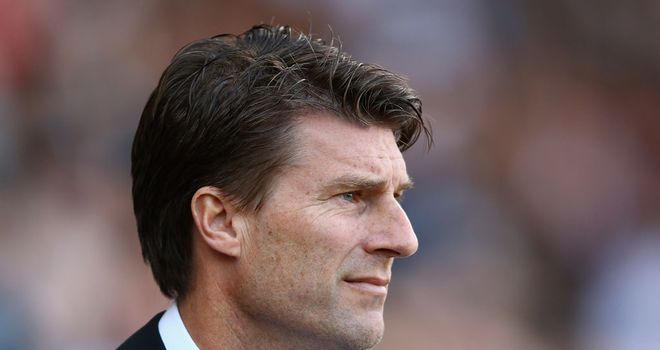 Reports surfaced this week that players are unhappy with Laudrup, who succeeded Brendan Rodgers in the summer, following the Swans' recent run of shaky form and suggested the manager is facing rebellion from his squad.
But Monk insists there is no weight to the speculation and says the Danish boss has the players' full backing.
He told the South Wales Evening Post: "There are always rumours flying around every football club, but I can assure you that there is no problem here and everyone is pulling in the same direction.
"It was quite funny reading an article in the paper yesterday morning saying that the senior players were ready to revolt against the manager. Well I say funny, in fact it made most of the boys angry.
"The article (in a London newspaper) came as a surprise to us all because we are a close-knit club - always have been and always will be - whatever people say or write.
"If there is a problem then everyone knows that the door to the manager's office is always open and you are listened to and treated the same whether you are a senior player or a young pro - and that's the way it should be.
"If people want to try and unsettle us, then fine, because I can guarantee it will only make us stronger."
Resolve
Reports also claimed key players had secretly met with Swans chairman Huw Jenkins to complain over the Dane's management methods but the club chief also dismissed such speculation.
Jenkins added: "Yesterday's article trying to cause unrest at the club will only help to strengthen our resolve going forward.
"Michael Laudrup and his staff have the full support of everyone connected to Swansea City and will continue to do so during the long season ahead."
Laudrup admits he was surprised by the reports but is focused on pushing forward with the Welsh club, currently without a win in the Premier League since August 25th.
"I am a little surprised by today's story," said the manager. "I've said from the very first day I arrived here that my door is always open.
"There will always be some players disappointed if they are not playing, but that's the same at any football club. Perhaps yesterday's story is a result of that.
"But we will never let these types of stories unsettle us and will continue to push this club forward."