Michael Laudrup is to send Swansea out without a recognised striker against Manchester City
Michael Laudrup plans to keep faith with his strikerless system when Swansea City travel to Manchester City on Saturday.
Last Updated: 26/10/12 9:16am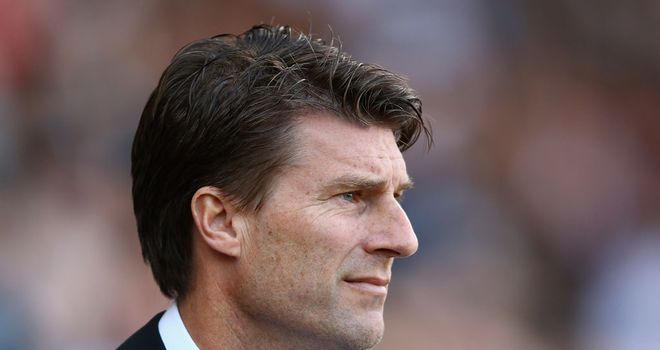 An approach similar to that adopted by Spain as they landed European Championship glory in the summer saw the Swans to a 2-1 victory over Wigan Athletic last time out.
Packing the midfield allows players to arrive late into the penalty area, making them difficult to pick up.
Laudrup believes that tactic could serve his Swans well this weekend, with Ajax proving during a UEFA Champions League clash on Wednesday that City can be made to look very ordinary.
He said: "The idea was that Wigan's back three did not play against anyone and we had a lot of players in the midfield.
"It's always difficult to mark players arriving in the box.
"Look at Ajax's first two goals. For the first one, the ball went wide and there was nobody in the box, but three men arrived at the last moment and (Siem) De Jong got a great goal.
"The second one was from a corner. (Micah) Richards and (Joleon) Lescott, they are both fantastic in the air, but the player who scored arrived late."
No fear
Laudrup added: "Ajax showed us it is possible to get a result. They had a lot of respect, but no fear.
"They didn't deserve to go 1-0 down, but they came back.
"The goal just before half-time was great and in the second half they really deserved to win."