Michael Laudrup to field Swansea's Michu against Chelsea despite ban threat
Michael Laudrup has no plans to omit Michu from his Swansea side which entertains Chelsea on Saturday.
Last Updated: 03/11/12 2:17pm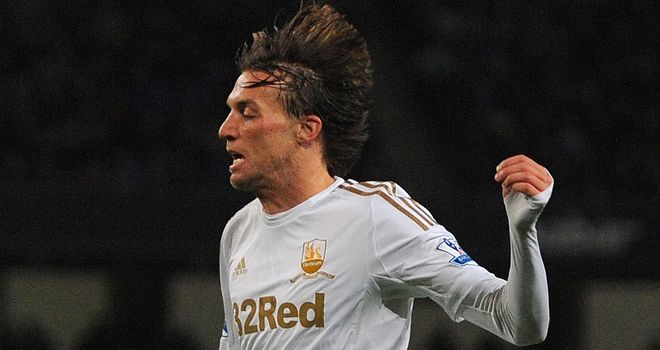 The Spaniard has been a key player for the Swans since moving to the Premier League club during the summer.
However, despite scoring seven goals in just 11 appearances since arriving from Rayo Vallecano, the 26-year-old has also collected four yellow cards and is just one more booking away from a ban.
Although Laudrup accepts that the forthcoming game against Southampton is probably more important from a Premier League perspective than this weekend's match with Chelsea, he will not be tempted to rest him against the Blues.
The Danish manager of Swansea admitted: "He is a very important player, he is our top scorer, his movement is good and he is making assists.
"I have spoken to him about it and I said 'I want you to play'.
"The fifth booking, when it comes, comes. He is tall and with his long legs there may be a tackle where he will think he can get the ball and may give away a foul and get a yellow card, that happens.
"He wants to play against Chelsea and he wants to play against Southampton!"
As for the match against the Saints, Laudrup added: "We are not competing with Chelsea in the table.
"To win at Southampton would mean a lot as it would be three extra points for us and none for them.
"I always prefer to beat the teams we are fighting directly with in the table. What we do against the big clubs is a bonus."
Saturday's game comes hot on the heels of Swansea's Capital One Cup win over Liverpool and former manager Brendan Rodgers in midweek.
The win put Swansea in the quarter-finals of the League Cup for the first time in their 100-year history, and a home draw against Middlesbrough has fans dreaming of a return to Wembley.
But Laudrup knows he and his players cannot allow their minds to wander, saying: "We are back in the league now. I understand 100 per cent that it was a great night for this club and everybody connected. To beat Liverpool at Anfield is a great achievement and it was our first time beating one of the big clubs on their pitch.
"But now we have to park that tournament until mid-December and not start to talk about Wembley.
"The fans can have their dreams and I understand that, but before then we have seven league games, some very important ones and then we have Middlesbrough at home.
"The fans can dream about Wembley but the players and the staff cannot."