Leon Britton hopes a midfield battle with Steven Gerrard will lift his England chances
Swansea's Leon Britton hopes a solid display against Steven Gerrard will boost his England chances.
Last Updated: 24/11/12 2:11pm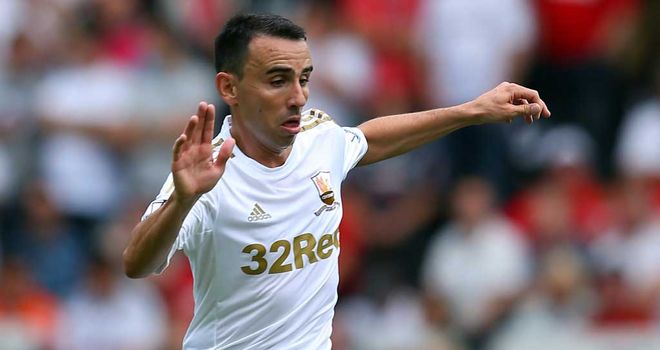 Britton, 30, will go up against the Liverpool talisman when the Reds visit the Liberty Stadium on Sunday.
Gerrard, 32, recently became the sixth player to record a century of appearances for England in the defeat to Sweden, and remains an integral figure in the Reds' squad.
Britton has yet to lock horns with the Reds skipper in the Premier League, but his 45-minute outing in the recent Capital One Cup tie between the sides was enough to make the Swans man aware of the quality of his opponent.
He said: "He has just won his 100th England cap and is one of the greatest English players to play the game.
"It is great to be on the same pitch with him, I played against him for the first time up at Anfield for 45 minutes and in that time you saw straight way that this is a real player.
"You know that watching on the telly, but coming up against him you see just what a player he is, it is great to play against these types of player, you have got to be on top of your game.
"It's hard to say if he is the best I have faced because I only played against him for 45 minutes, but in that time could see the quality and you have to watch because if you give him time and space he'll hurt you, so it will be good challenge."
England manager Roy Hodgson recently called up seasoned Everton midfielder Leon Osman on the back of his Premier League form and Britton added: "Playing in the Premier League against top players like Gerrard, and playing well shows you can do it at this level. I think the manager has shown with Leon Osman being capped at 31 that he'll give someone an opportunity if they are 31 or 17."
Focus
Britton has been mentioned as a possible England call-up given his impressive form in a Swansea side continuing to produce attractive football under Michael Laudrup.
While he would be thrilled to represent his country, he will put thoughts of impressing Hodgson to the back of his mind.
"Has he got Sky? I don't know," said Britton. "I'm concentrating on playing well for Swansea and keeping my place in the team. Maybe I'll send him a DVD if I play all right.
"It would mean everything to play for England, it would be a dream come true.
"As a kid growing up you dream about it, you play out on the street and you're playing for England. If you ever achieved that dream it would be incredible.
"If you had one (cap) you'd want more, but if it had to be one you wouldn't find a happier man on the planet."