Michael Laudrup says Swansea are focused on making it to 40 points
Michael Laudrup has insisted Swansea's first aim is to reach 40 points and he is not setting Michu a goals target.
Last Updated: 04/12/12 3:53pm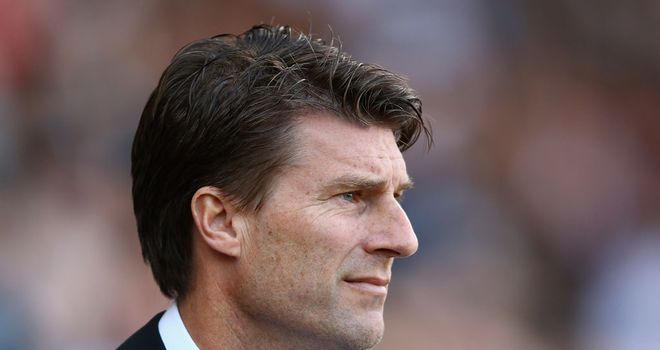 Michu has been in sparkling form all season after joining from Rayo Vallecano, scoring ten times in the Premier League to help the Swans surge into seventh place.
Laudrup, who raided the Primera Liga for a number of other players over the summer, told Sky Sports News: "From my past in Spanish football I know the players and I know the reason why we can bring players like that over here, because the economy is very bad and that is why Spain is the place where you can get the best priced quality players.
"Obviously I never expected he could get 10 goals at this stage of the season. It is great but he is not playing alone and if he is getting these goals it is because we have a lot of good players.
"I don't want to put more pressure on him by setting targets and saying he has to score this or that, he just has to continue like he is now.
"But he is not just a goalscorer. He is doing much more than that."
Swansea's recent run has fuelled suggestions they could challenge for a European place but Laudrup says the initial aim is survival.
He explained: "Let's see how many points we have at 19 games, and then we will look to get to the magical 40 points as soon as possible and see how much more is left to play for.
"I don't think it is good to get carried away just because things are going well at the moment, so we will keep our feet on the ground."
Laudrup has given no consideration to his own long-term future, having earned rave reviews for the way he has kept Swansea moving forward since his appointment in the summer.
"The philosophy is the same. We are a passing team, but you always have to try and score goals," he said.
"It is a question of sometimes playing the ball around but also sometimes being more direct and even at times to play on the counter-attack. To always do the same thing is easy for the opponent so we try to be different, but always with possession as the key word."
Describing his experience of the Premier League so far as 'fantastic' Laudrup added: "I don't think about what I will be doing in two, three or four years because I really don't know."