Swansea target 40-point mark in Premier League says Ben Davies
Ben Davies says Swansea remain focused on securing Premier League survival despite moving up to seventh in the table.
Last Updated: 08/12/12 2:37pm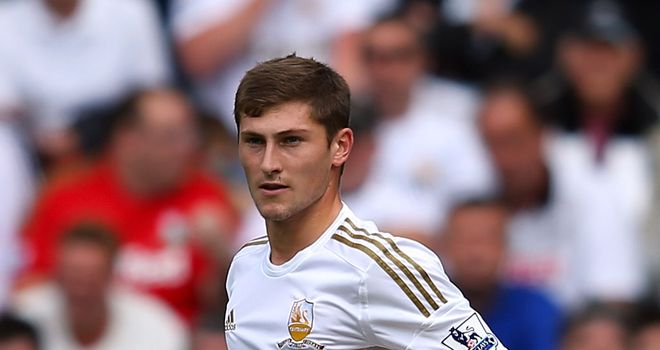 The Swans claimed a stunning 2-0 win at Arsenal last weekend to extend their recent sequence to one defeat in ten matches.
That run has led to some suggesting Swansea should be targeting European qualification this season but Davies insists their focus is on getting to 40 points as soon as possible ahead of their clash with Norwich this weekend.
"The confidence is very high in the group at the moment, and that's just down to the way we're playing," he said.
"Some of the results we've got have been a massive boost, especially after beating West Brom and Arsenal, people are going to start raising their expectations.
"But as a group, our aim is still to reach 40 points and to stay in the league. The earlier we reach that, the further we can try to progress.
"I think it will be a difficult game against Norwich.
"We won't be taking it lightly and, as long as we can keep it solid at the back, I think we've got the quality up front to get goals."
Davies got his chance in the first team after Neil Taylor broke his ankle and the 19-year-old admits the last few months have been something of a whirlwind.
"It was disappointing to see Neil get injured, he's a good lad and it was horrible to see him get that injury," he said.
"But I didn't have time to worry about that. I was just thrust in and had to get my head on the game.
"There was no real anticipation of what was coming - I just had to get on the field and do my best, and Michael Laudrup has put his faith in me to keep me in the team.
"It's kind of happened at a good time that I got my opportunity, when the club was at the highest level it could be.
"You've just got to do as well you can in every game that comes, and show what you can do."