Michel Vorm delighted to see Swansea take a point away from Everton
Michel Vorm admits Swansea were not at their best against Everton, but battled hard to pick up another point.
Last Updated: 12/01/13 7:02pm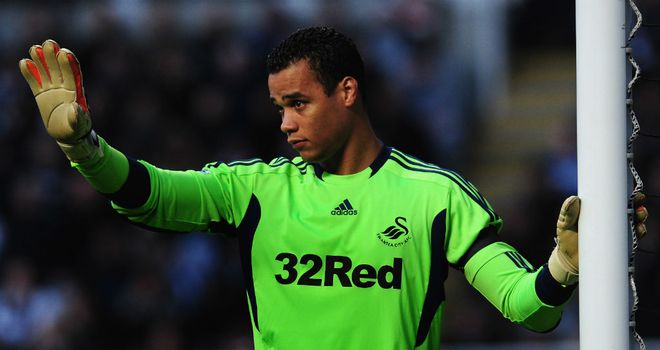 Michael Laudrup's side stretched their unbeaten run in the Premier League to five matches on Saturday with a goalless draw at Goodison Park.
Swansea offered little attacking threat on Merseyside, with one effort from Michu which was tipped onto the crossbar as close as they came to finding the target, but Vorm believes they showed once again that they are capable of grinding out results when required.
The Dutch goalkeeper told Sky Sports: "You play against a very good opponent, and also the pitch wasn't that good for playing good football. When we had the ball we were quite sloppy, but you have games like this and you have to show character.
"I think, not only the defence but the whole team did very well today. When you play against Everton, especially away, it is always a hard task to play against such a good team. That is why I am so happy with this point."
He added: "Last season we lost twice and this season we lost at home (to Everton). We knew, especially with their form at home, that they would be hard to beat, but we also know that we are hard to beat at the moment.
"We are doing very well and today was maybe not our best game possession-wise, but how we defended and the heart we played with for 90 minutes was amazing. We kept a nil, which was important and I'm happy to have got a point."
Vorm also believes that Swansea are starting to benefit from their added strength in depth, with Laudrup having been able to mix things up against Everton.
He added: "I think that is the biggest quality of ours this season, it's not only about the first XI, it's more about 20 or 22 players that we have.
"At the end we had four Dutch boys in the team and we started off with a couple of Spanish boys, so it's a good mix of players. The new players and the players who have already played here, everybody knows what they have to do when they come in. Everybody works hard for the team."