Swansea manager Michael Laudrup delighted to reach Capital One Cup final
Swansea manager Michael Laudrup was a happy man after guiding his side into the final of the Capital One Cup.
Last Updated: 24/01/13 8:28am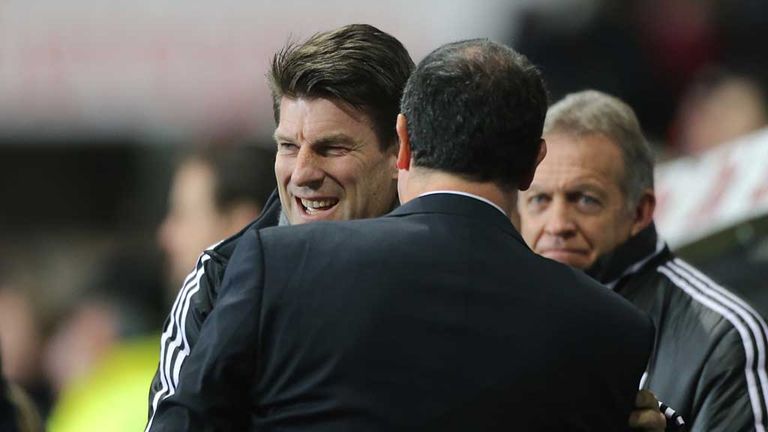 The Swans reached their first ever major final after drawing 0-0 with Chelsea in the second leg of their semi-final at the Liberty Stadium to win 2-0 on aggregate.
They will now take on League Two giantkillers Bradford City at Wembley on 24 February.
Laudrup said: "Over two legs we just beat the European champions from last season, not conceding even one goal. I think it is absolutely fantastic.
"It was a game that I expected. There were moments when we had possession and moments when they had it. There were moments when we had to defend deep because of their quality and moments of counter attacking.
"But actually I think we came very well into the game and had the first two chances. Wayne Routledge had the first one and the second was quite a big chance for Michu but Petr Cech is a very good goalkeeper so he saved that one.
"It was very nice and that gave me the confidence and belief that we were on the right track because we started so well.
"We can say that this final is between the small fairytale and the huge fairytale. If our position and place in the final is a small fairytale what can you say about Bradford?"
The game was overshadowed by the sending off of Chelsea winger Eden Hazard for kicking out at a ballboy, but Laudrup denied claims that the ballboy was acting on instructions from the club to hold up play.
"No, no. Definitely not," said the Dane. "I think he was pushed and on top of the ball. I can understand all the frustrations when you are behind.
"I saw it from a very big distance from the bench. I've since seen it after the game. Hazard is a great player. When he sees the images I think he will regret it."