Jonathan de Guzman says Swansea will cope if Michael Laudrup leaves
Swansea midfielder Jonathan de Guzman believes the club will continue to prosper even if manager Michael Laudrup leaves.
Last Updated: 26/02/13 12:03am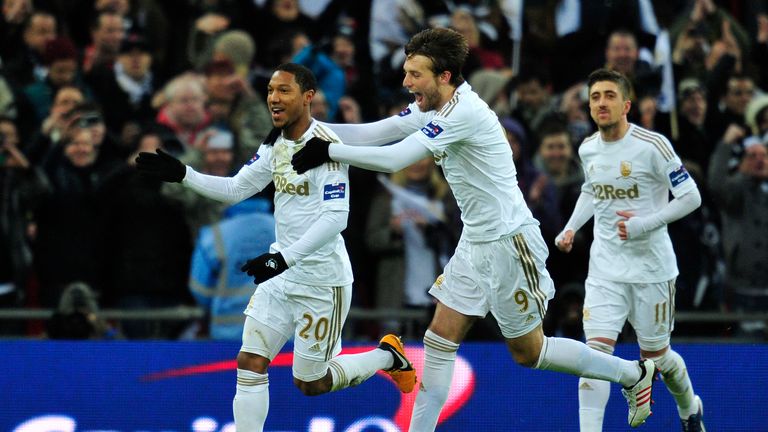 Real Madrid, Chelsea and Manchester City have all been linked with Laudrup who has made a major impact at the Liberty Stadium this season and guided the Swans to Capital One Cup glory at Wembley on Sunday.
Swansea chairman Huw Jenkins is now set to discuss a contract extension with the 48-year-old Dane, who has said he will honour his present deal which runs through to the end of next season.
But De Guzman is backing the club to cope if Laudrup performs a U-turn and decides to move on.
"Everyone wants to get to the top and get the best out of their career and if it happens to him I will wish him the best, although it would be sad," said the Dutchman.
"But there are other coaches out there capable of filling his shoes.
"Last season everyone was so happy when Brendan Rodgers was here, and there was a lot of sadness when he left.
"People were questioning if Michael Laudrup could do the job but just look at how well he has done, and if he gets the opportunity to take his theories elsewhere I would wish him the best.
"Sometimes that happens in football and we know a lot of coaches have respect for the way Swansea play good football."
De Guzman is only on loan in south Wales until the end of the season, but having rediscovered his best form after an injury hit year at Villarreal, he admits a permanent deal is his target.
He said: "It was a no-brainer coming here. Everyone knows I am happy here, we have not talked about it but if it comes to talks my ears are open, my first choice would be to stay."