Michael Laudrup 'unhappy with Swansea transfer budget'. Relations with Huw Jenkins 'strained'
Sky Sports News has learned that relations are strained between Michael Laudrup and his chairman Huw Jenkins.
Last Updated: 06/06/13 12:36pm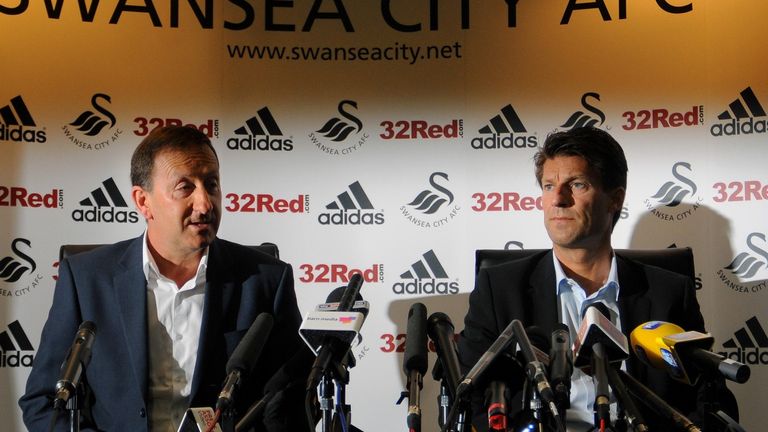 Laudrup signed a new contract last season but has attracted the attention of several clubs since winning the League Cup.
However, it is understood that Laudrup is not happy with the transfer budget the club have planned for.
Sky Sports News understands that Laudrup and Jenkins have not talked for a week, and that the manager's agent Bayram Tutumlu is acting as an intermediary between the two.
Last summer Swansea twice spent £5million on players when signing the likes of Pablo Hernandez and Ki Sung-Yueng - but sources say Laudrup wants to spend double that on some players this summer.
Laudrup guided the Swans to Capital One Cup glory last season, as well as a ninth-place Premier League finish, and has been linked with clubs such as Paris St Germain and Real Madrid.
Laudrup had hoped those successes would give him the leeway to spend heavily this summer with Swansea preparing for a Europa League campaign.
Just last week the Dane had said it would be very difficult for Swansea to improve unless they "find a couple of hundred million pounds".
Jenkins and Tutumlu are expected to hold further talks on the issue. Tutumlu recently said Laudrup would remain with Swansea if the board made good on assurances he claims they gave to the Dane when he signed a contract extension in March.