Swansea boss Michael Laudrup calms quit talk but repeats transfer call
Michael Laudrup has played down reports he is ready to quit Swansea but repeated his call for new players.
Last Updated: 07/06/13 1:39pm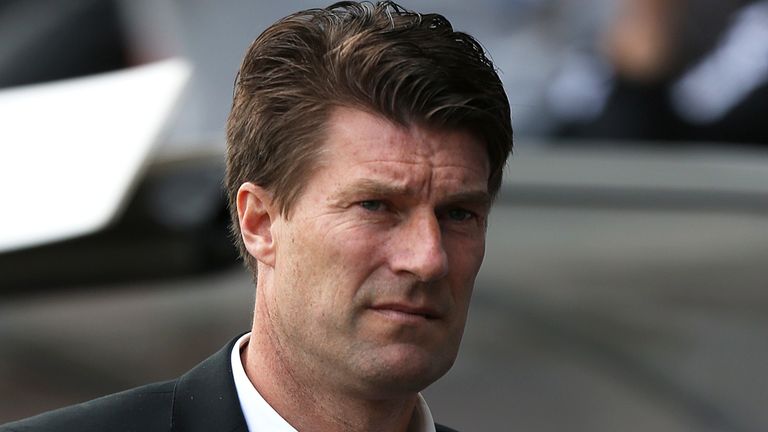 Speculation has mounted that the Dane, who led the club to Capital One Cup glory last season, is ready to leave South Wales after becoming frustrated at a lack of big-money arrivals.
Both camps have attempted to cool talk that a split is imminent, but Laudrup has taken another opportunity to call for backing in the transfer market and believes his targets are within the club's reach.
"I have always said that my intention was, and is, to stay at the club," Laudrup told the South Wales Evening Post.
"I think all the speculation regarding my future is due to the fact that there hasn't been any good news since we played our last game three weeks ago. We all need some good news."
"I had hoped for some signings at this stage, but I think this is a question to ask to the chairman and the board.
"They have all the names of the possible players for our team. And all the players, except one, are in Swansea's level when we talk about transfer and salary.
"Everyone is looking forward to receiving some news regarding new players. Instead people can read in different papers and media that there are bigger and bigger problems with me, the chairman, the board, my agent or players who will not join Swansea because they are not sure that I will stay."
Swansea confirmed on Thursday they would be signing midfielder Jose Canas when his Real Betis contract expires later this month, but Laudrup is keen to bolster his forward line to ensure support for last season's star man, Michu.
Chairman Huw Jenkins claims all parties at the club are agreed on how Swansea should bolster their squad this summer.
"Myself, the manager and our recruitment staff are all agreed on the quality of players we would like to sign to help us remain competitive in the Premier League," Jenkins said.
"We are continuing to work behind the scenes, in private wherever and whenever we can, to strengthen our squad.
"For that reason it's disappointing that I have to respond to the speculation of unrest at the club after the fantastic season we have had.
"There are substantial funds available to strengthen our squad over the summer while we are also in the privileged position, because of the way we've managed our finances over the years, where we do not need to sell anyone to fund those new recruits.
"It goes without saying that some of our targets will sign for other clubs for different reasons. But that's the same for every club.
"The important thing, and a factor that has always been vitally important for us, is that we sign players who want to play for Swansea City for footballing reasons. If not, then we move on to the next target."