Michael Laudrup 'not close' to Swansea exit says chairman Huw Jenkins
Swansea City chairman Huw Jenkins says that manager Michael Laudrup has not been close to leaving the club.
By Tim Oscroft
Last Updated: 28/06/13 4:30pm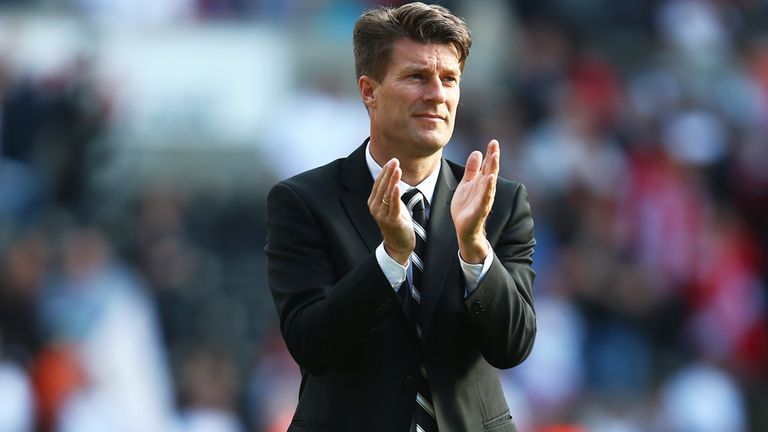 Jenkins's words come after rumours of a rift with the Danish boss over the club's transfer policy.
In June, Jenkins severed all ties between the club and Laudrup's agent Bayram Tutumlu, who had suggested that not enough money was being made available for new players.
Laudrup's stock rose after he guided the Swans to the Capital One Cup in his first season in charge.
"My relationship with Michael Laudrup has always been very, very good," said Jenkins. "I don't think that has ever been in doubt.
"There has been a lot of speculation over the summer, a lot of it when Michael was on holiday in America and in Denmark, and a lot of it was blown all out of proportion.
"There is always speculation when a club like us has been successful the season before, whether it's players or managers. There always seems to be somebody willing to come along and try and poach them.
"That's something we have said we have got to accept, that's the type of club we are. It's going to happen every summer and we have got to get used to it.
"We were not close to losing him, as far as I am concerned. You can lose a manager, or when the transfer window's open, you can lose a player any day.
"Potentially, you can lose a manager in the space of a few days at any time at all. We've discussed this before that we are always prepared at our football club and if things change for whatever reason, and they are out of our control, we have got to deal with it and get on with it."
Jenkins shrugged off the issues with Tutumlu and stressed that his club's future dealings would be in line with what has gone before.
"I am not friends with any agent as such, but they are part of football and we do our best to deal with them in the right way. A lot of that (the row with Tutumlu) was blown out of proportion," Jenkins added.
"We run our football club in a certain way and whether it is Michael Laudrup and his agent or anyone other manager and his agent, we will continue to run the club as we see fit, that is what we have done for the last 10 years.
"You'll have to ask the agent what his reasons were, but things are settled down looking forward to the new season."