Swansea boss Michael Laudrup wants to move on after 4-1 defeat by Manchester United
Swansea City manager Michael Laudrup wants his players to move on following the 4-1 defeat by Manchester United.
Last Updated: 17/08/13 9:34pm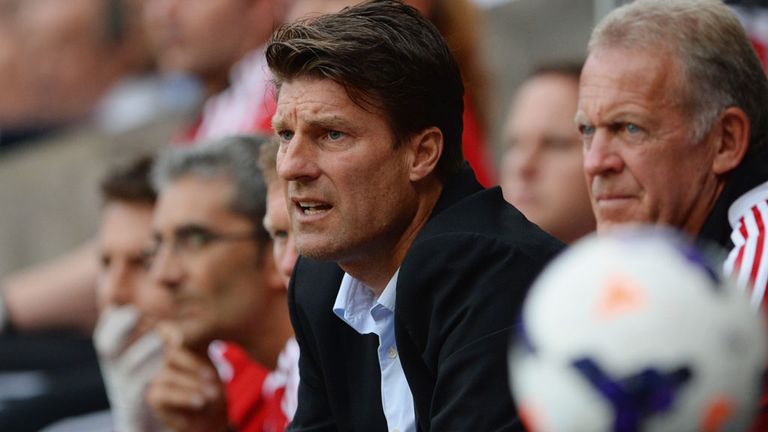 Robin van Persie and Danny Welbeck both scored twice at the Liberty Stadium to provide David Moyes with a perfect start as United manager.
Laudrup was satisfied with Swansea's performance until Van Persie and Welbeck scored twice in the space of as many minutes in the 10 minutes before half-time.
The Dane is trying to focus on the positives and wants Swansea to put the result behind them ahead of next Thursday's Europa League play-off tie against Petrolul Ploiesti.
"The first half an hour, everything was as planned and we moved the ball around, and they had only one shot on target," Laudrup told Sky Sports.
"Suddenly, you saw the difference with two goals. The first one was a great finish, a very difficult one for Van Persie, and the other one there were a couple of mistakes.
"But two goals in two minutes, it's too difficult to come back from that. Then you saw the class of Van Persie for the third goal, it was an outstanding goal and at 3-0 it's finished.
"We tried at the end, but we lost 4-1, and we just saw the difference was the finishing. We have to accept that three of the four goals were absolutely top class goals.
"We needed more chances to score our only goal, but I said to the players it's always difficult to lose, especially at home, 4-1. It's a heavy result, but Man Utd is not in our league, they play for other things.
"We have to get over that and just move on. Of course, we're not pleased but we have to move on to Thursday, and the first leg in the Europa League which is a very important game.
"Then on Sunday we go to Tottenham. We knew already when we saw the first two fixtures against Man Utd and Tottenham that it would be very difficult, but we have not to get carried away."