Swansea boss Michael Laudrup not worried by tough start to the season
Swansea boss Michael Laudrup has rubbished talk that his team will be under pressure if they lose to Spurs on Sunday.
Last Updated: 24/08/13 1:34pm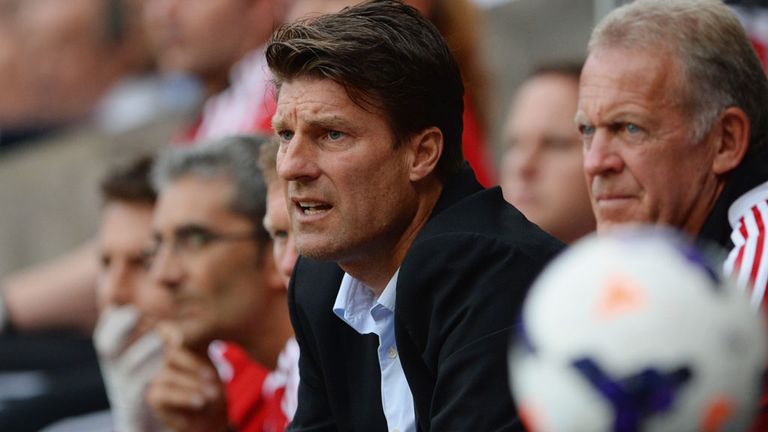 City all-but booked their place in the Europa League with a 5-1 hammering of Petrolul Ploiesti midweek, but their Premier League campaign kicked off with a 4-1 hammering at home to Manchester United.
Laudrup insists he was braced for a slow start to the season, with United, Spurs, West Brom, Liverpool and Arsenal representing a seriously testing first five matches.
"We already knew this is how it would be," he said.
"I am not complaining about the fixtures. We knew we had to play everybody. It's not like a cup which you can say there are certain teams you would prefer to face.
"We have to play the other 19 teams sooner or later and we knew when we saw Manchester United and Tottenham come out as our first two games and Manchester United, Liverpool and Arsenal as our first three home games.
"We know it is very difficult but we have to play them all and I think we are confident. We know what we can do.
"We know when we play the big teams it will be very difficult. It is not in these games that we will get our points to reach our targets.
"I know in the beginning if you lose people can say you could be in trouble if you lose this game or that game, but the season is 38 games. It's a long way, a long road.
"We saw that last year. We started last year brilliantly, after the first two games we had six points, had scored eight goals and conceded none, but after seven games we had eight points.
"Suddenly you can win two or three, but suddenly you can lose two, three or four in a row so we just take it easy and see what happens on Sunday."
Many pundits are expecting a goal-fest at White Hart Lane, and Laudrup said the absence of Gareth Bale may reduce the chances of that: "Could it be 5-5? I don't know. I don't think you can look at it like that.
"A game ending 5-5 would be good for the fans but it will be a tough game. Tottenham already had a very good squad last season but they have bought some very good quality players in Roberto Soldado and Paulinho.
"But they will, as far as I understand, lose their top player so they may be a different team this season."