Jonjo Shelvey looking forward to facing Steven Gerrard on Monday Night Football
Jonjo Shelvey is relishing the chance to lock horns with Steven Gerrard when Swansea host Liverpool on Monday.
Last Updated: 17/09/13 9:00am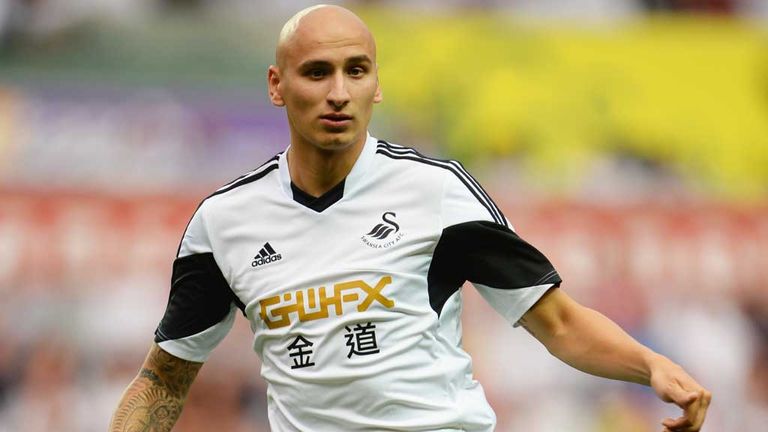 Shelvey was mentored by the England captain during his three years at Anfield before heading to Swansea in a deal worth £5m during the summer in order to get more regular first-team football.
"It will be a bit mad facing him as I was living next door to him in Liverpool," said Shelvey. "But I always said I wanted to play with him and against him before he retired, because if you play against him you can really judge yourself on where you are as a player.
"For me he has been the best player in this country for God knows how long, he is the complete midfield player."
Shelvey again insisted he made the right decision to leave Liverpool, and that he will look back on his time at Anfield with fond memories.
He added: "You get a love for the club, Liverpool are in my blood and I will always look out for their result.
"I was there for three years and I had a great time at a great club with such a great history, I loved it there and I cannot wait to play them.
"When I moved my Dad said I was leaving one of the biggest clubs in world football to play somewhere else.
"But I felt it was something I needed to do, I didn't want to sit around, sit on the bench and just pick up money for not playing.
"Liverpool won the League Cup when I was there but I did not make the bench, and you feel like you are not there, even though you are happy and you get a medal, you feel like you are not part of it. I want to be part of something at Swansea."
Watch Swansea take on Liverpool live on Ford Monday Night Football, coverage starts at 7pm on Sky Sports 1 HD