Jonjo Shelvey says sorry after Swansea draw 2-2 at home with Liverpool
Jonjo Shelvey apologised to Swansea fans after the 2-2 draw with Liverpool after saying he wanted to 'go into a hole'.
Last Updated: 17/09/13 8:06am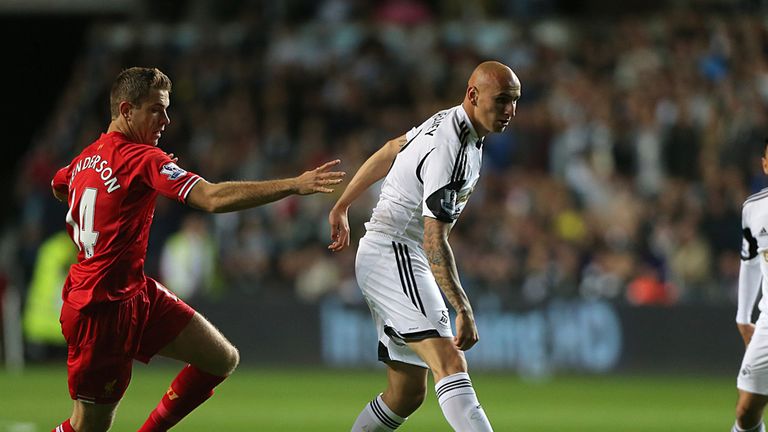 The midfielder joined Swansea from Liverpool in the summer and put his new club ahead after just two minutes, only to inadvertently set up his old team-mate Daniel Sturridge for the equaliser two minutes later.
Shelvey's poor pass then provided Victor Moses with the opportunity to fire Liverpool ahead before the England international set up Michu for Swansea's equaliser on 64 minutes.
Though Shelvey had helped to earn Swansea a point at the Liberty Stadium, he was left distraught by the role he had played in Liverpool's two goals.
"I just want to say sorry to the Swansea fans for the two bad mistakes that have gifted Liverpool a draw," Shelvey told Sky Sports.
"I really thought we deserved more than that. It started tremendously, getting the goal, but then two poor mistakes.
"I showed a bit of character to keep getting on the ball, and I set the next goal up, but I'm still disappointed.
"I didn't really want to celebrate [after scoring] because I've huge respect for the Liverpool fans and I loved every minute being there, but it's hard to hide your emotions. Two minutes later, I give them a goal. It was good to score, but I can't stop thinking about the two mistakes.
"You want to go into a hole where no-one can see you. Football is about coming back from things like that and it has happened to great players.
"It's just a horrible feeling, I don't want to wish it on anyone, even your worst enemy, but that's football."