Premier League: Swansea boss Michael Laudrup prioritises Crystal Palace trip
Michael Laudrup has urged Swansea not to bask in the glory of their stunning Europa League victory over Valencia.
Last Updated: 20/09/13 3:08pm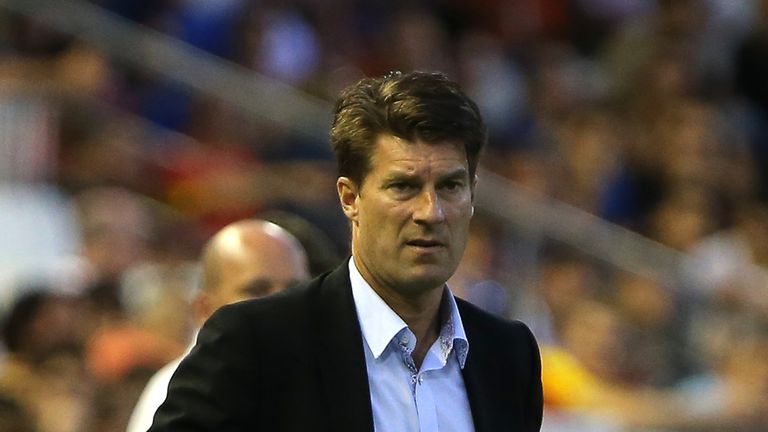 There may have been more important victories in Swansea's 101-year history than the 3-0 triumph in Spain, but there have been few as eye-catching as their triumph over the two-time Champions League finalists.
Laudrup's men have very little time to savour the success, with a trip to Selhurst Park to play Crystal Palace on Sunday looming quickly on the horizon.
"We have another important game on Sunday in the Premier League, so we have to move on, no matter how great a result this is," he said.
"It's important to be happy about this result, it was a great night, but we already have to think about the game Sunday.
"We cannot enjoy and savour this game for many days because we have to focus on the Premier League game, which is a very difficult away game."
But midfielder Jonathan de Guzman was happy to take a little time to reflect on a memorable night, the highlight of which was his magnificent curling, dipping 30-year free-kick.
"I don't think if you had asked anyone beforehand what the score would be that they would have gone for that," the Dutchman said.
"It was a great result for us. The red card had a huge influence on the game. After that we took control and we took our chances when they came.
"They haven't started the season well and they didn't have the confidence they usually have. I know that in the Mestalla the fans will get mad if they don't score early on, they start whistling.
"Maybe it could have been different if they'd had 11 men on the pitch but we took advantage of the red card very well."
Laudrup does not believe their win in Spain will necessarily win them a host of new followers.
He added: "I think the newspapers and the public will talk more about the situation with Valencia in their difficult moment.
"They have lost three games in the league and now they have lost to us in the Europa League and they and the coach are under pressure.
"I think they will talk more about that, rather than about us."