Swansea boss Michael Laudrup insists Michu is a rare type of player
Michael Laudrup is happy to "let Michu be Michu" as he down played comparisons with the likes of Dennis Bergkamp.
Last Updated: 28/09/13 5:00pm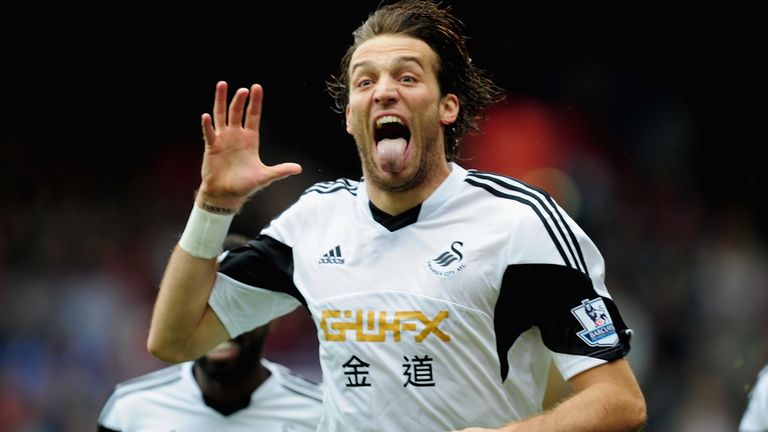 With the Swans facing Arsenal in Saturday's tea-time kick-off, comparisons have been made between the Spaniard and Ozil, who has quickly established himself as Arsenal's attacking fulcrum since his high-profile arrival from Real Madrid.
Gunners boss Arsene Wenger even went as far as to put Michu in the same bracket as Dutch hero Bergkamp, who is fondly remembered by fans of the north London club thanks to his magisterial 11-year stint there, during which he registered over 300 appearances.
Laudrup acknowledges it is a considerable compliment for Wenger, who is celebrating his 17th anniversary in charge of Arsenal this weekend, to compare the two, but the Dane is happy to focus on the unique qualities his bargain £2million signing brings to his team.
He said: "Michu is different to the other players we are talking about. They are smaller players physically, but you always want your players to work between the back four and midfield, in the hole, that's what you want.
"But he scores more goals than a lot of other players who play there. I don't think he's similar in the way he plays, he is a different kind of player, even if he plays the same position.
"People want to compare Michu to a lot of players. Just let Michu be Michu.
"Bergkamp and he are two different players, with Michu's height and physicality he is so important for us.
"I wouldn't compare him to Bergkamp, Ozil or Cazorla, but we're very pleased with what he is doing for us.
"For an Arsenal fan, Bergkamp is a very special player in the history of the club, so to talk about two players like that shows how much Arsene Wenger appreciates what Michu has been doing here for the last 15 months."
Surprise
While happy to extol the virtues of Michu, who has already scored five goals in all competitions this season after netting 22 last term, Laudrup also praised the way Ozil has quickly adapted to English football, but admits he was surprised to see Real Madrid let the Germany international go.
"I have to admit I was very surprised when I saw he had left Real Madrid as he is a fantastic player," he said. "Arsenal is a great club too but with Real Madrid you are playing in the quarter-finals, semi-finals and finals of the Champions League.
"I was also surprised with the way it happened on the last day of the transfer window as I did not imagine a player with his quality would be changing team at the last moment, but he did and you have to say well done to Arsenal.
"Even before signing Ozil, the strongest part of their side was the midfield with Jack Wilshere, Santi Cazorla and after adding Ozil there is so much quality. Fortunately Cazorla can not play against us, but they are still very good in that area."
Wenger found himself under almost immediate pressure when Arsenal lost to Aston Villa on the opening day of the season, but they have recovered with four wins on the bounce to sit top of the Premier League table, and Laudrup has hailed the character shown by the Gunners.
"They lost the first game and experts were saying they would have a tough year, but now they have won games including a difficult Champions League game. It's a fantastic start," he said.
"It will be difficult for us as their midfield is strong and Olivier Giroud has shown Wenger he wants to repay the faith he has shown in him, and Aaron Ramsey has also had a great start to the season. I'm looking forward to an exciting game, but also a difficult one."
You can watch Swansea v Arsenal live on Saturday Night Football at 5.30pm on Sky Sports 1.