Swansea's Michael Laudrup warns Wales boss Chris Coleman over Ashley Williams
Wales boss Chris Coleman has been urged to put Swansea defender Ashley Williams' fitness first.
Last Updated: 02/10/13 6:22pm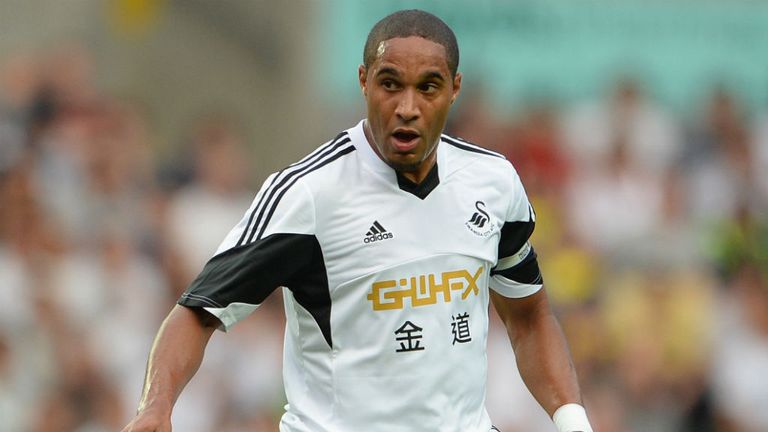 Williams is a doubt for Wales' two World Cup qualifiers this month after picking up an ankle ligament injury in the 2-2 draw with Liverpool.
He is certain to miss Swansea's Europa League meeting with St Gallen on Thursday and club boss Michael Laudrup admitted Sunday's clash with Southampton could see him sidelined for a fourth game in a row.
Coleman, whose Wales side are bottom of their World Cup qualifying group, will be desperate to have Williams available against Macedonia and Belgium but Laudrup has preached caution.
The Dane said of Williams: "I doubt he will be fit even for Sunday.
"It's not a serious injury but you have to be very careful. If you continue playing with an ankle like that, it could carry on for a month.
"If Ashley is playing or not, I am saying he should still go with Wales so the medical staff can look at him and then do the best for one person, for Ashley - not Swansea or the national side.
"Because as a player if you know you are not 100 per cent, it's bad. If there are things you can't do because of injury it's not good and, at this level, if that's the case your levels will drop.
"I've spoken to Chris a couple of times previously. We all agree the most important thing is the player.
"It's the same for us. I could say if we win against St Gallen we move on to six points and are top of group. We also want to win at Southampton on Sunday, so they are two important games for us.
"But have to remember it is October 2 and we have to go on until May.
"I really want some of my injured players available for Thursday and Sunday, but we have to think long-term and what is best for them because that's the best for everyone.
"If they are not 100 per cent our general performance will drop and we cannot afford that. It can depend on the injury and so on but the players are the most important thing."