Nathan Dyer may not have fractured his ankle as first feared
Swansea winger Nathan Dyer may not have fractured his ankle against Norwich as first feared.
Last Updated: 16/12/13 7:06pm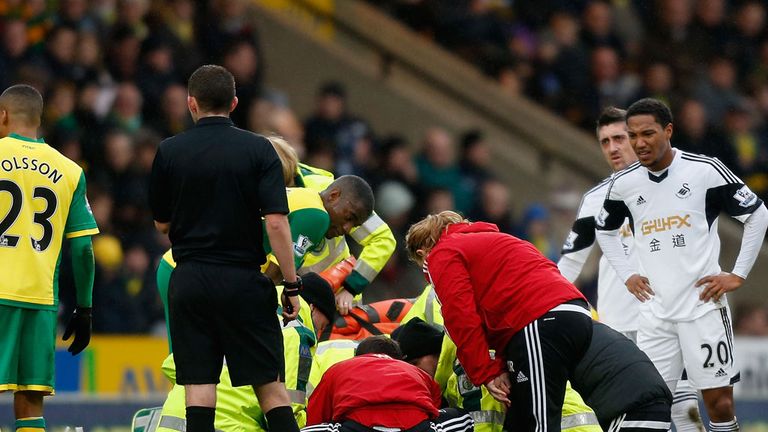 Dyer was rushed to hospital after he was carried off shortly before half-time at Carrow Road, but subsequent tests appear to reveal no break.
Swansea's Twitter feed revealed on Sunday evening: "Initial X-ray shows no obvious break to Dyer's ankle. However, he will have further scans (Monday) before final diagnosis."
The 26-year-old, who lobbed John Ruddy to score the opening goal, sustained the injury during a hefty challenge from Sebastien Bassong.
Bassong clattered into the back of Dyer when challenging for a header and the Swansea player's right ankle gave way on landing.
Dyer was administered oxygen and his leg put in a brace by medics on the pitch before he was stretchered off and taken to hospital.
Swansea boss Michael Laudrup told Sky Sports after the final whistle: "When something happens like that, we know it's serious.
"We hope it's not that serious. He's gone to hospital.
"There were very, very bad memories when it happened just a year ago to Neil Taylor, who was on the bench today.
"Let's cross our fingers and hope it's not that bad.
"We have to wait first and have an X-ray, then an MRI scan, then we'll know for sure."
Dyer's injury promises to add to Swansea's woes, with Alejandro Vazquez, Leon Britton, Garry Monk and Chico Flores currently sidelined.
Laudrup was happy that striker Michu was able to complete most of the game, however, and hoped that his injured stars would soon return.
He added: "Leon Britton is coming back, while Chico is not too bad. Some go, some come, but of course, the injury of Nathan today is different. It seems a little more serious, so fingers crossed.
"It's definitely not good, but no-one knows how bad it is. He left immediately for the X-ray, but we'll have to wait a couple of days.
"I'd rather wait to make any comments because I'm not a doctor, so let's hope. It will be bad, but there's a difference of five weeks or five months, maybe."
Both sets of supporters applauded the former Southampton trainee as he was carried away.