Premier League: Swansea's Jonjo Shelvey has 'no regrets' over Liverpool spell
Swansea City midfielder Jonjo Shelvey insists he has 'no regrets' over his time at Liverpool.
Last Updated: 21/12/13 12:25pm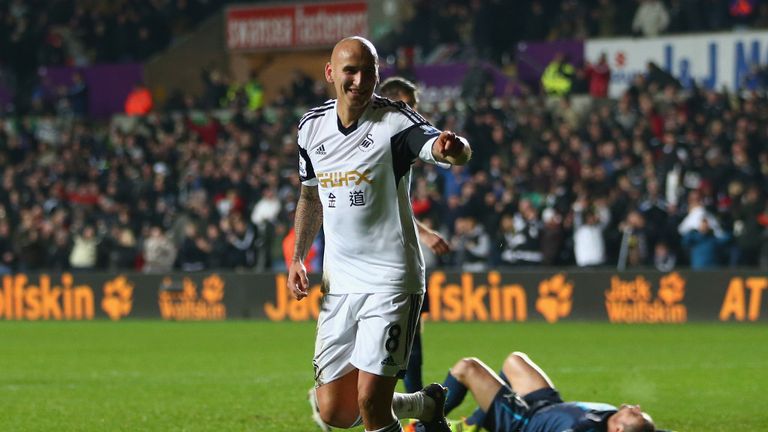 The 21-year-old joined the Reds from Charlton Athletic in 2010, but left for South Wales just three years later after only starting 31 games in three seasons.
Despite only playing a handful of matches each season, the England international believes that both moves were right for him.
"I just never got that run of games, or run of consistency, to show what I could do," Shelvey told The Guardian.
"It's hard for a young kid to go in and come back out, your confidence goes a little bit and you start to feel: 'Am I not good enough?'
"I think there were times when I was playing well, I scored those two goals out in Switzerland (against Young Boys) in the Europa League and then on the Sunday, I got sent off against Man United.
"To this day, I still don't think it was a sending off. The only regret I have is doing what I did to Sir Alex (Ferguson) that day, when I pointed and shouted at him - I was obviously emotional. But I've no regrets about joining Liverpool.
"I don't think I would do anything differently.
"A big thing for me was Gerrard. I grew up watching him and I wanted to learn from him.
"It was a big decision to leave but I needed to do it for myself.
"I loved the city and the people but I wasn't enjoying my football. I wanted to play.
"People would say: 'You're only young, you're getting paid all that money, you should be happy sitting on the bench at Liverpool.'
"Well, I wasn't. I'd rather take the money away and play football. That's the way I am."