Swansea captain Ashley Williams ready for 'special' Old Trafford double
Swansea captain Ashley Williams still classes an away game against Manchester United as a special occasion.
Last Updated: 08/01/14 11:50am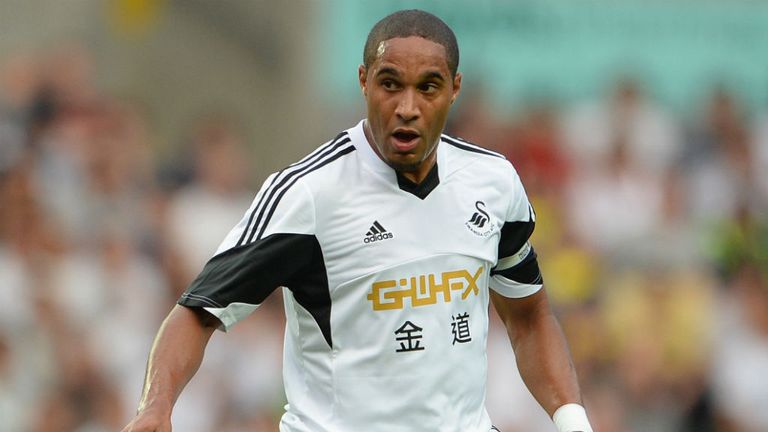 Williams and Swansea are preparing for back-to-back games at Old Trafford, with a Premier League away fixture following on from Sunday's FA Cup third-round tie.
United have already lost four times at home this season under new boss David Moyes, but Williams does not believe a trip to the Premier League champions has got any easier as Swansea look to end a run of seven games without a win in all competitions.
"It's an important game as we haven't won in so long, but going to Old Trafford is a special occasion for any footballer and we will go there," said the Wales defender.
"We will try and enjoy it and we will try and put a few things right.
"I think they are a top class side, there are no worries about United as far as I am concerned.
"With the transition with the new manager things can take time and it was going to be tough. But they still have a lot of the same players from last season and they can play a number of their players in their squad who are world class."
Swansea face United with a host of injury problems after Pablo Hernandez's hamstring injury saw the Spaniard join Michu, Michel Vorm and Nathan Dyer on the casualty list.
The absence of Hernandez and Dyer means Roland Lamah is likely to get another chance after featuring regularly in recent months for the first time in his Swansea career.
The Belgium international said: "I think I've played a lot of games now and I'm finding my form. I always try to keep that kind of energy.
"I can improve more I think. Now we have had a lot of injuries so we need everybody to help the team.
"We know that going to Manchester United will be a big test for us, but if we play like we managed to in the first half against Manchester City on Wednesday I think we can do something there.
"Old Trafford is a big stadium, but we are only thinking about the game and we'll just play our own football."